Rim Fire State Of Emergency?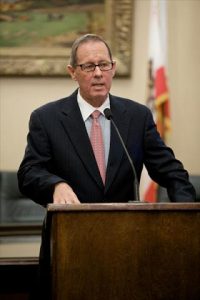 Senator Tom Berryhill

View Photos
Sacramento, CA — We should learn soon about the request to Governor Jerry Brown for a state of emergency declaration due to the Rim Fire. One person calling for that to happen is District 14 Senator Tom Berryhill.

"I want to make sure that our first responders have all the resources they need to continue battling this blaze. We ask that you pray for their safety and the safety of residents in the fire's path," says Berryhill.
If a State of Emergency is declared by the Governor it would open up the door for state money to help battle the blaze.
Berryhill urges the Governor to make the call saying, "This is a true disaster for the citizens of Tuolumne County. The fire continues to burn out of control, despite the best efforts of more than 1000 firefighters. Tuolumne is not a wealthy county. All federal and state assistance will be needed to help cover the costs associated with a fighting a fire of this magnitude."
Wednesday afternoon the Tuolumne County Board of Supervisors asked the Governor to call for immediate State of Emergency related to the Rim Fire.
Plans are being put in place for a possible declaration, but the Governor has yet to sign off. Some of the Governor's Office of Emergency Services fire engines have arrived in Groveland in anticipation, indicating that an announcement could be made sometime soon.
Click here to view the letter sent from Senator Berryhill to Governor Brown today.