Tuolumne Boat Patrol Search For Drowning Victim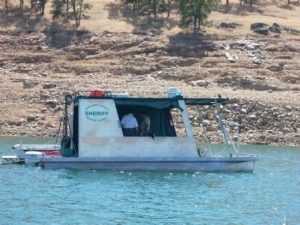 Boat Patrol At Don Pedro

View Photos
Lake Don Pedro, CA — The Tuolumne County Sheriff's boat patrol is diving in Lake Don Pedro searching for a drowning victim. The boating accident happened just after one this afternoon near the Fleming Meadows Boat Ramp.

Sheriff's Spokesperson Officer James Oliver says, "An 87-year-old man, his wife and adult daughter were on a small boat. They were heading out to their houseboat. When they pulled up to the houseboat the man either tried to grab the houseboat or tie the small boat up to the houseboat and fell overboard. At that point, the daughter jumped into the water to help him, but she wasn't able to find him."
Oliver says that is when rescue crews were alerted to the accident. He says it has been determined a drowning as divers are still searching in the water for the man's body. Oliver says the name of the victim will not be released until the body has been found.
Update 7:30pm: Sheriff's Officials have no word on whether the body has been recovered.