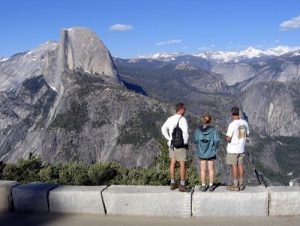 Glacier Point Rd. in Yosemite

View Photos
Yosemite, CA — Yosemite National Park is seeing a steady stream of visitors and attendance is just slightly off from last year at this time. Park officials report that 527,000 people have come through the gates from January to June, compare to 547,000 last year at this time. That is a dip of about 20,000.

Park officials say they had worried the dry weather could keep people from coming to the park. "It is the second year of a dry year, but it doesn't seem to be effecting visitation," says Spokesperson Scott Gediman. "People are out and about and enjoying themselves; so no huge increases or decreases, it just seems to be a good steady summer,"
Gediman stresses the parks attendance has stuck around the four million mark for over a decade and he says they are on track to do that this year. He says overall they are very pleased with the attendance numbers so far.