Business Activity In The Mother Lode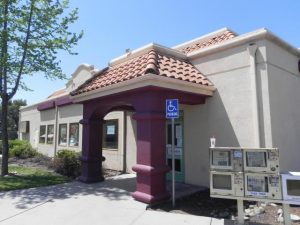 Former Denny's Site

View Photos
Many new businesses will soon open up in the Mother Lode, others are expanding, and some are closing their doors.
Ecoplexus, Inc. has been putting up its 5,900 photovoltaic solar panels along O'Byrnes Ferry Road. The County Supervisors amended the Conditional Use Permit last month to take into account concerns about the Endangered California Tiger Salamander. Construction is taking place quickly as they need to have the work completed by the end of the month as part of an agreement with PG&E.
The Original Buffalo Wings is finalizing the renovation of the former Denny's site on Mono Way. They have placed new signs up and recently stated that they were in the process of hiring around 20 people. The Northern California chain is based out of the Bay Area.
It is not clear yet what will take up shop at the former Blockbuster Video store in Sonora. During a recent Mother Lode Views, Sonora Community Development Director Rachelle Kellogg noted that many prospective businesses have been expressing interest. The building may be separated into two or three spaces.
Construction is set to begin around the fall for the new McDonalds store at the Mono Way and Sanguinetti Road intersection. The Sonora Planning Commission recently approved some of the final aspects of the plan, allowing for an additional retaining wall to help with parking issues.
Sonora Regional Medical Center recently announced a new partnership related to orthopedics. The Sierra Orthopedic Institute was opened in 2010 by Dr. Ariana DeMers, and was soon joined by Dr. Thomas McDonald and Dr. James Boyd III. The Orthopedic Clinic will now be part of SRMC large network of primary care and specialty clinics. New signs are also going up around the SRMC campus, reminding everyone of the hospital's decision to become a smoke free campus.
Over the 4th of July holiday, Books and More in Angels Camp closed after 30 years in business. Longtime business The Country Store in the Junction Shopping Center also closed its doors this month.
Grocery Depot has opened in Jamestown at the former Crown Sales Auto and RV Parts building. A Dollar General Store is expected to be built near the recently re-opened Rawhide Saloon. The county is working with CALTRANS regarding some access issues. A hearing on the project is expected in the fall.
Construction is underway on a new Tribal Government Office building near the Chicken Ranch Casino. The two story building is expected to open on August 18th. They are also working with Caltrans on the possibility of putting in a dedicated turn lane on Highway 108 into the Casino.
Black Oak Casino recently opened their new hotel. Click here to view a story about the grand opening.