What Is The Sonora Chamber Of Commerce?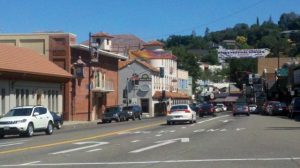 Downtown Sonora

View Photos
The Sonora Chamber of Commerce is a membership organization representing the business community of Sonora.

Shirley Sarno, chamber member, was Friday's KVML "Newsmaker of the Day".
The Sonora Chamber of Commerce not only concentrates their marketing efforts within the Sonora area but they are also dedicated to raising the awareness of Sonora through tourism, and markets the area as a tourism destination.
The Mission, or purpose, of the Sonora Chamber of Commerce is to develope an economically prosperous business district while maintaining the character and integrity of Historic Sonora, making it the "heartbeat" of the community.
The Chamber is active with many community projects, mixers, events and three times a year publishes a magazine called "Explore Sonora". Each Summer they also run the very popular series and events around downtown Sonora.
Originally called the "Historic Sonora Chamber of Commerce", Sarno said that the word "historic" has been confusing to many merchants, as any business within the Sonora city limits is welcome to be a member. That word (historic) is slowly being dropped by the Chamber.
To learn more about the Chamber call (209) 588-9625.