Tuolumne County Arts Alliance Shares Good News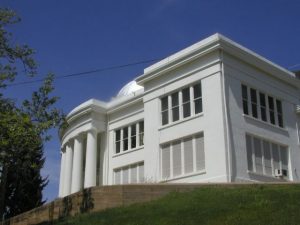 Sonora Dome

View Photos
The Tuolumne County Arts Alliance has a new name, logo, location and website. And this summer, they are keeping as busy as ever.
Connie O'Connor the Executive Director for the Tuolumne County Arts Alliance (formerly the Central Sierra Arts Council) was Thursday's KVML "Newsmaker of the Day".
The "new" campus for the TCAA is located on Barretta Street in Sonora, in the old Parent Nursery School Building on the north side of the Dome.
O'Connor shared some potentially great news for the arts in Tuolumne County.
The California Arts Council is a proud recipient of $2 million in savings from the 2013 State Assembly operating budget. The funds, directed to support arts and arts education programs in California communities, will help enhance local creative economies, fund effective arts learning programs, and support the growth of the state's creative workforce.
"This is a huge statement and decision of the recognition of the value that the arts play in all of our collective [community] and individual lives, as well as, the fact that it is a proven economic driver," said O'Connor. "Perhaps, this provides another reason to really look at the local value of the arts in Tuolumne County and Sonora. Some of the core values and programs of TCAA and TCVB and all the other local arts and cultural organizations are dependent upon the acknowledgement by all that reside, visit, work and provide local government leadership upon this level of and type of support."
O'Connor continued, "What the outcome of this sort of support reflects is the elevation of our communities, our children and yes, all our citizens. What we have to offer here in Tuolumne County is truly a "gift of place" – it IS what helps to "make the difference"! As an alliance of organizations, we seek to engage and involve our community and its leaders to continue to strengthen these long held values and opportunities."
The California Arts Council is a state agency whose mission is to advance California through the arts and creativity. These one-time Assembly-provided funds will support projects designed to stimulate economic and social benefits in very specific ways for local communities and schools statewide.
Support will be distributed during the 2013-2014 fiscal year. The funding will not be used for administrative costs at the agency, but go to direct services for local communities in California and will be leveraged with other funds to prove that the arts is one of California's premier investments.
The new website that is filled with local information, news and activities is http://www.tuolumnecountyarts.org/
The "Newsmaker of the Day" is heard every weekday morning on AM 1450 KVML at 6:45, 7:45 and 8:45am.