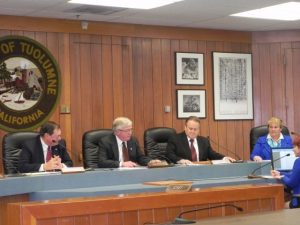 Tuolumne County Board of Supervisors

View Photos
Areas of Tuolumne and Jamestown could soon be getting underground power lines, as part of a program overseen by PG&E.
In 1968, PG&E began replacing overhead power lines with the underground variety. The work is done as part of the company's Rule 20A program, where municipalities receive financial credits. Tuolumne County currently has an estimated $7.5 million in credits available.
By a 3-2 vote, the Supervisors prioritized select areas of Tuolumne City as number one on the list, followed by areas of Jamestown (Willow Street, 5th Avenue, Seco Street and Preston Lane), East Sonora and then Mono Way.
District One Supervisor Sherri Brennan and District Two Supervisor Randy Hanvelt were the lone votes against. Brennan argued that the high frequency of power outages in the high country can be a detriment to attracting new businesses to the county. Hanvelt also argued that residents hit the hardest by winter storms should be a higher priority, as a public safety matter.
Tuolumne was selected as the top priority as there are issues with the grid system that interferes with the historical character. It also has several community events, such as the Lumber Jubilee and summer Farmers Market concert series. It was noted at the meeting that Jamestown is also a spot with much historic character and many of the power lines are aesthetically unpleasing.
The projects were simply nominated to receive the available funding, and the county will hear back at a later date.
Areas of the county that have already received underground power lines as part of the PG&E program include Columbia State Park, Twain Harte Drive (Joaquin Gully Road and Twain Harte Drive), Jamestown (Main Street), Groveland (Highway 120) and the City of Sonora (North and South Washington).