More Filming In The Mother Lode?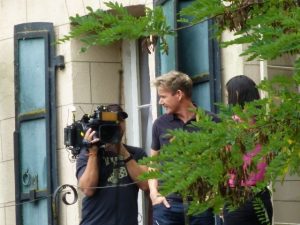 Gordon Ramsay on location of Hotel Hell at Murphys Hotel

View Photos
Sonora, CA — This year, reality TV struck big in Murphys and among other filming activities, Big Trees' scenic sequoias earned face time in a car ad. Prospects for 2015 are looking up, according to the local film commissions, as both offices plan website overhauls and more outreach in the New Year.
Of 2014, Calaveras County Visitors Bureau Executive Director and Film Commissioner Lisa Boulton recounts, "We did manage to get Hotel Hell to film at Murphys Historic Hotel…and another show, Restaurants: Impossible at Hillbillies Restaurant…and there have been a couple of commercials."
In the New Year, Boulton says, "We're going to spend more time and energy on doing film commission work…Lisa Mayo (Tuolumne County Visitors Bureau Executive Director and Film Commissioner)…and I. We are both on the same page with where we want to go with our film commissions…where we develop our websites and get more involved in the community, and really help to bring in those essential dollars to our respective counties."
Mayo recalls, "In 2014 we had a wide variety of things that were produced in the area…a few different filming productions that went on, and one of those is Breaking Legs, which is just wrapping up production." The feature dance film by Mark Marchillo has local ties, "and that's great to see," Mayo enthuses. Marchillo attended Summerville High School.
The popular History Channel show American Pickers remains in contact, Mayo says. "They're still looking for that perfect building or barn to go to, to find treasures."
While both commissions maintain current portfolios of filming locations and other assets, both commissioners indicate that they would welcome more additions from area residents. "We certainly would be delighted to hear of any locations that we don't currently have available," Boulton says. She and Mayo encourage people interested in being extras as well as actors, costumers and other industry resource providers to contact the offices. Caterers and other local service providers may also request to be added to the offices' assets lists.
You can contact the film commissions directly at their respective visitors' bureaus. In Calaveras County, call (209) 736-0049; in Tuolumne County, call (209) 533-4420. To view both commissions' currently available locations and assets, click here for filmcalaveras.org, and here for filmtuolumne.org.