Public School Lunches To Go 'Fresh, Local'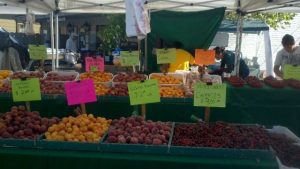 Sonora Certified Farmer's Market

View Photos
Sonora, CA – Farm fresh local produce will now be a part of lunch programs in state public schools, including those in the Mother Lode, under a new USDA pilot program.
"This is great news for schools and kids in California, and in particular for the students of Tuolumne County, where many schools have already initiated farm-to-school networks through small gardens at local elementary schools, to larger scale projects like Sonora High's Wildcat Ranch," says Tuolumne County School Superintendent Margie Bulkin.
"In addition to the nutritional value gained from farm fresh produce, the pilot opens the door for a variety of additional 'learning' opportunities that connect students to job skills in related careers," she adds.
On Friday, State Superintendent of Public Instruction Tom Torlakson announced that California was one of eight states chosen to participate in the pilot project that will allow school districts to spend a portion of their Food Distribution Program entitlement funds on unprocessed fruits and vegetables purchased from approved local sources. "This program will give schools more flexibility in how they procure fresh produce directly from local farmers…this is of great benefit to both local economies and local food producers," Torlakson states. If the project proves successful, the USDA may expand it nationwide.