House Fire Gets Rapid Knockdown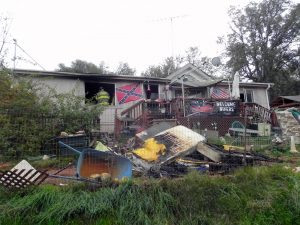 Birch Street Fire, front of house.

View Photos
Tuolumne, CA — Quick response time made short work of a modular house fire this morning in the hills just above Tuolumne City.
The blaze occurred in the 18000 block of Birch Street. Neighbor Tristan Pierce says, after hearing an unusual amount of noise he looked outside and saw flames shooting from the  bay window of a nearby home.
"It was crazy," Pierce says. "I  just yelled at my wife, 'call the fire [department]', and we just went outside… I tried to grab the hose and the fire extinguisher…started running up here…by that time…Tuolumne Fire had gotten here, like in two minutes. I mean they were fast."
Capt. Tuolumne Fire Nick Ohler reports the call came in around 9 a.m. and "around ten engines, a water tender and a battalion chief" were dispatched.
Ohler states, "We had a good aggressive interior attack. We had engine companies here, pretty quick to the scene. The guys made a good knockdown on the fire and started doing salvage and overhaul."
Although there is not yet a damage report, Ohler says, "There's one room that's heavily damaged and the majority of the rest of the house has some smoke damage to it."
There were no reported injuries. The cause of the fire is yet unknown and will be determined by an investigation team.