Open School Board Seat Needs Applicants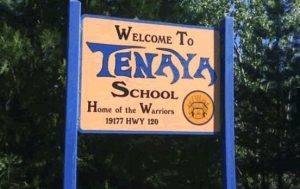 Tenaya Elementary School

View Photos
Sonora, CA – Applicants are now being sought to fill an unexpectedly vacant seat on the Big Oak Flat-Groveland Unified School District Board of Trustees.
At the board's Wednesday meeting, citing a time conflict with her job obligations, member Gloria Marler handed in her resignation, effective immediately.
Marler's board seat, a four-year position, is now open for the remainder of the term, which ends in December 2016. Interested residents may apply for position through the district office in Groveland, according to School Superintendent Dave Urquart. The deadline to submit the paperwork is December 1 at 3 p.m.
The process will be a quick one, as Urquart explains: "We will then interview those candidates at the board meeting in December…make a selection and appoint that person to fill the rest of that board member's seat. And then, in two years, that seat would be up for reelection, and of course, that person can reapply."
In other business at the board meeting, members agreed to a new employment contract with Urquart, who also currently serves as the principal of Don Pedro and Tioga high schools. Under the new terms, which will take effect in the next school year, Urquart will relinquish his responsibilities as principal for both schools (along with the lion's share of his current $122,000 annual salary) to a new principal, yet to hire in. This, Urquart says, will allow him to focus on his superintendent role in a part-time position, for which he will be paid $40,000 annually.
"I haven't been able to spend as much time with the students at the two schools as I would like," Urquart explains. "This is to give the students a little more service at each school site…and allow me to do my superintendent job a little more thoroughly, as well."
For consideration of the currently open board seat, all potential candidates must submit an information sheet, proof of residency in the school district area, and be a registered voter at least 18 years of age. For more details about the position, Contact Jennifer Shimer at the school district office by phone at 962-5765 or email jshimer@bofg.k12.ca.us.