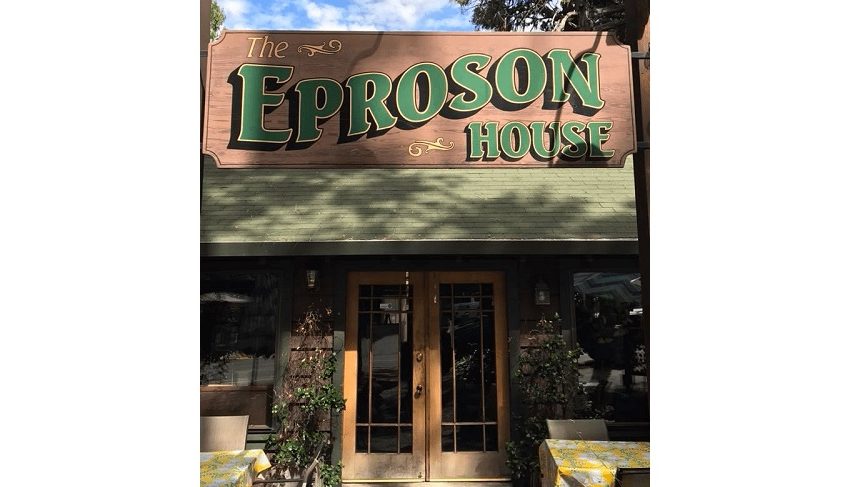 22930 Twain Harte Drive,
Twain Harte, California 95383
Ray and Ella (Giannini) Eproson moved to Twain Harte with their family in 1930. The family owned the Twain Harte Grocery (where 7-11 is now located). Ray became Twain Harte's Postmaster and Fire Chief and the Post Office was located in their store, which for many years was also their home. They began building their new home on (what is now) Twain Harte Drive during World War II. This is the current location of the Eproson House. It was completed in 1947 and had five rooms. The Post Office was moved to the front part of what is now the bar. Ray and Ella's bedroom was located behind the Post Office. The children's bedrooms were located in what is now the dining room between the current bar and the new dining area near the fireplace.
Ray Eproson died in 1967, and Ella lived in the house until her death in 1972. In 1973 the house was sold to Mr. and Mrs. Warton who converted the home into a restaurant, "the Eproson House." Dick Rachel took over the restaurant from the Wartons and later sold it in 1975 (?) to Martha Scott who owned the business until 1991. Martha Scott was related to George C. Scott the actor. Martha added the new dining area on the West end of the building (the sky room). The bar and restaurant became the social and business center of Twain Harte.
Since 1991, The Eproson House has had several owners and, for a short time, a couple of different names.
Now it is once again The Eproson House Restaurant. We welcome all of you- past, present and future to our house- "The Eproson House." Enjoy!
Sunday
9:00 am - 3:00 pm, 4:00 pm - 8:00 pm
Wednesday
9:00 am - 3:00 pm, 4:00 pm - 8:00 pm
Thursday
9:00 am - 3:00 pm, 4:00 pm - 8:00 pm
Friday
9:00 am - 3:00 pm, 4:00 pm - 9:00 pm
Saturday
9:00 am - 3:00 pm, 4:00 pm - 9:00 pm
Opening Hours Notes
Wednesday, Thursday, Sunday 9 am to 3 pm Breakfast/Lunch and 4 to 8 pm Dinner
Friday and Saturday 9 am to 3 pm Breakfast/Lunch and 4 to 9 pm Dinner
---