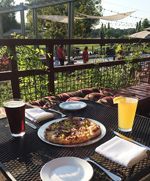 676 McCauley Ranch Road
Angels Camp, CA 95222
Phone: 209-736-8181
Website



122KB
Camps Restaurant at Greenhorn Creek resort offers award-winning dining, with a menu that highlights the comfort of tradition, along with the flair of contemporary cuisine, accentuated by local, seasonal ingredients.  Service is extraordinary, executed gracefully, and is only matched by the warmth and friendliness of the staff.  Camps has a carefully curated wine list featuring many of The Sierra Foothills' local wineries, boast a bar that is abuzz with an exciting array of specialty cocktails and an excellent selection of draft beers.  The restaurant features an elegant main dining room, an outdoor patio, and a more intimate dining experience in our Mark Twain Library.  The grounds are appointed with Bocce Ball Courts, equipped with an outside bar and wood-fired oven offering authentic Neapolitan style pizza, The Wisteria Arbor, perfect for weddings and outdoor events, and it is all nestled amid one of the most picturesque settings in the Sierra Foothills, Greenhorn Creek Golf Course, nationally recognized as one of California's finest golf experiences.
Come hear musicians on a select evening at Camps.  For a complete list of dates and musicians, click here.
Hours
Breakfast: Wednesday through Saturday from 7:30 am- 10:30 am
Sunday, golf breakfast from 7:30 am - 10:00 am, Brunch begins at 10:00 am - 2:00 pm
Monday & Tuesday 8:00 am - 5:00 pm - BAR ONLY; we do not serve breakfast, lunch or dinner on Monday and Tuesday.
Wednesday, Thursday & Sunday 11:00 am - 4:00 pm Lunch;
5:00 pm - 9:00 pm Dinner
Friday & Saturday 11:00 am - 4:00 pm Lunch;
5:00 pm - 9:00 pm Dinner
Wood-fired Pizza Hours
Wednesday through Sunday, 4:00 pm to 9:00 pm
Cellar Room Hours
Wednesday through Sunday, 3:00 pm to 7:00 pm
Cuisine
American, California, Desserts, Pizza, Salads, Sandwiches, Seafood, Steakhouse-Fine
Ambiance
Elegant, Great Views, Romantic
Options
Banquets (20 or more), Banquets (under 20), Bar, Brunch, Fireplace, Great Beers, Great Wines, Outdoor Dining, Parking, Wheelchair Access, Wine Tastings, Wireless Internet
Entertainment
Live Music
Notes
Reservations:
Yes
Alcohol:
Yes
Pricing:
$15 – $20 entree
Accepts
American Express, Debit Card, Diners Club, Discover Card, Mastercard, Visa