SRT's Elf the Musical Decks The Holidays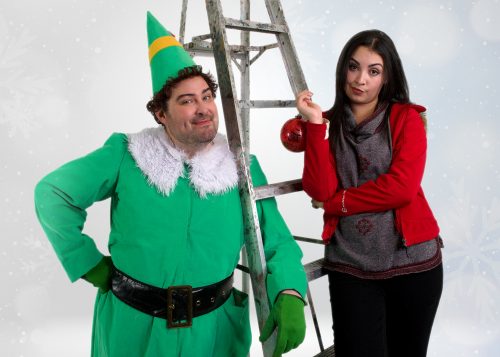 A green-suited, yellow-stocking-clad figure nearly as familiar as Santa has arrived in the Mother Lode to herald the winter holidays: Buddy the Elf.
Elf the Musical, based on the iconic 2003 Christmas movie classic starring comic actor Will Ferrell in what many consider to be one of his greatest roles ever, remains since its 2010 Broadway debut a touring favorite around the holidays. Now playing at Sierra Repertory Theatre (SRT) in East Sonora, this well-cast production, both funny and touching, goes down as warm and sweet as a cup of hot cocoa with a side of Grandma's sprinkle-frosted melt-in-your-mouth holiday cookies.
Adapted for the stage by former The Second City's Bob Martin (Minsky's, The Sting, The Prom) and Thomas Meehan (Annie, The Producers, Hairspray, Young Frankenstein), the score is by by Matthew Sklar and Chad Beguelin (The Prom, The Wedding Singer).
As in the movie, Buddy, who thinks he is just a bumbling under-achieving elf, is actually a full-grown human who has been raised among Santa's sprites as one of their own; the secret of his origin slips just before Christmas as his continued failings as a nimble, elfin-speed toymaker become too obvious for his cohorts to explain away.
Recounting Buddy's accidental transport from an orphanage nursery via a toy bag to Christmastown, Santa reveals that while Buddy had a biological mother who put him up for adoption just before she died, his Dad, Michael Hobbs, a children's Big Apple book publisher, is both unaware of Buddy's existence and well-established member on the "naughty" list. Gifting him a snow globe depicting the Empire State Building, where Hobbs works, Santa sends Buddy south to connect with his own kind. It becomes a beacon for Buddy as he zeroes in on his mission to meet the man he naively believes to be the "World's Greatest Dad."
Captivating Cast, Catchy Tunes
Cleverly enough, a musical number entitled just that comically ponders some of Buddy's pipe dreams of how he and his father might celebrate their first winter holidays together. It is one of many catchy, audience-pleasing songs that complement the story.
Completely captivating in the lead role, SRT's own soon-to-be Artistic Director Jerry Lee manages to embody Buddy the guileless man-child raised by elves in a twinkly lights-out musical performance that runs the gambit between over-the-top kookiness and deft nuance.
In fact, the whole show seems to siphon holiday spirit directly from Lee's cutely commanding stage persona and kick it up a notch. Full-voiced and well-choreographed, the talented cast is clearly intent on its mission, clearly described in one song's lyrics: "spread some Christmas cheer by singing loud for all to hear."
Camryn Elias (playing Jovie, Buddy's love interest), Matt K Miller (Walter Hobbs) and Brenda O'Brien (Walter's wife Emily), all Actors Equity Association members, turn in noteworthy performances but the whole cast and ensemble earnestly earns its keep, enthusiastically hoofing and tapping through scene changes that bring the audience from Santa's workshop to the streets of downtown Manhattan; through Central Park; inside Macy's Christmastown, Walter's office in the Empire State Building, and even into a Chinese restaurant where Buddy hilariously commiserates with a slew of seasonal-hire "fake" Santas.
Elf the Musical continues to play at SRT's East Sonora Theatre (13891 Mono Way) through Sunday, Dec. 18 with evening performances at 7 p.m. Fridays and Saturdays matinees at 2 p.m. on Saturdays, Sundays and Thursdays, and noontime performances on Wednesdays. SRT's production of another holiday tale, The Christmas Foundling based on stories by Bret Harte, runs at Fallon House Theatre in Columbia State Park Thur. Nov. 7 through Sunday, Dec. 18.  For details and tickets to both go to: https://www.sierrarep.org/