SRT Stages Artful, Heartful Masterpiece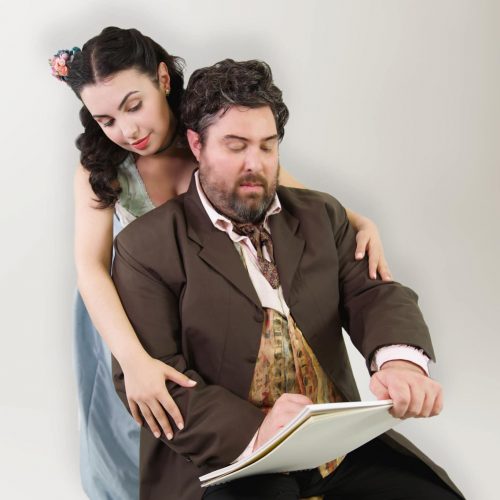 Artistic triumphs like the latest from the Mother Lode's theatrical gem come from channeling big ambitions into big results that literally leave an audience tingling.
Now open at Sierra Repertory Theatre (SRT) East Sonora is Sunday in the Park with George, one of the few Broadway musical stage productions to ever win a Pulitzer Prize for Drama. This initial, early 1980s collaboration between Stephen Sondheim and James Lapine, is quite literally an artful blending of reality and fantasy.
Inspired by a now-renowned but controversial-at-the-time painting by French Post-Impressionist/pointillist artist Georges Pierre Seurat, the play depicts a fictionalized version of the painter and a muse-lover Dot, one of the key figures in what will become Seurat's masterwork, "A Sunday Afternoon on the Island of Le Grande Jatte."
Surrounding them is a beyond colorful cast of characters who begin and end as figures-come-to-life in various stages of the painting and once it is complete. Through the second act the audience comes to understand the piece from more of a contemporary perspective with help from a wizened Dot and her great-grandson, a fictionalized descendant of Georges, who, himself an artist, has created a modern sculpture-like reflection on the painter's work.
In the starring role SRT Artistic Director Jerry Lee, and as his muse Dot Camryn Elias, both Actors Equity Association (AEA) actors are nothing short of brilliant. Each distinguishes themselves in performances initially made famous on Broadway by Mandy Patinkin and Bernadette Peters. A sterling ensemble cast provides such powerhouse singing and acting you might not even notice there is not one dance number.
Interspersing Pop Favorites with Fine Art
Asked if SRT was even a bit nervous about staging such a complex work, Director Scott Viets chuckles. "We do eight shows a season and our mission statement is 'something for everyone'."
He further points out that this season so far has led with several crowd pleasers like Elvis the Musical and the slapstick whodunit Clue, based on the game and inspired by the movie of the same name. Too, casting is currently underway for Jersey Boys, the musical phenomenon based on Frankie Valli and the Four Seasons. "It is important to have a show or two where people might not know the title!"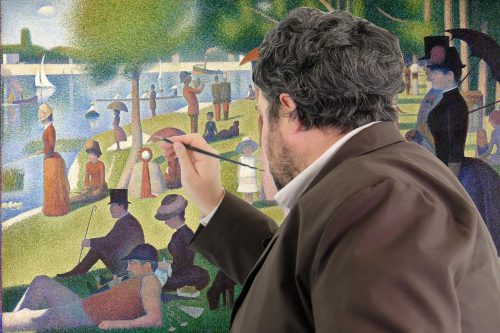 Viets confides that SRT has achieved a bit of a coup in staging a production that is not often seen even in the major cities known for the broadness and depth of their theatrical offerings.
"Big city theatre crowds know this kind of theatre, but it is not done very often and is one of those rarities to produce," he notes. "People in the Bay Area are coming because it isn't done much anywhere. So here it is with the scope and quality – in your own backyard – and you will not see a better cast on Broadway!" He happily crows, "You need to come and see this — it's in your backyard and it's going be gone in four weeks!"
If you appreciate live theatre, whether you know much — or nothing at all — about Sondheim, the songs, or the storylines he and Lapine concocted to interconnect the painting's nearly two dozen characters that inspired the play, Viets predicts you will feel the experience in your heart, soul, head, and in the very goosebumps down your arms. We laughed after I told him his description was pretty much what I felt at the end of the performance — and that my husband pointed to actual hairs standing on his own arms as the cast sang its finale.
Sunday in the Park with George plays through June 11 at SRT's East Sonora Theatre with 7 p.m. performances Fridays and Saturdays, 2 p.m. matinees Thursdays, Saturdays and Sundays, and a noontime matinee Wednesdays. Opening July 1 at SRT's Fallon House Theatre: Jersey Boys. For more details and tickets