Our Classifieds were updated at the beginning of August and they continue to provide the Mother Lode with a large audience for selling things and posting informaition. The MyMotherLode.com classifieds has seven categories:
Job Listings & Recruitment
View job listings, recruitment opportunities and get hired by local employers. Help Wanted ads are here.
Merchandise
From new and used equipment to collectible memorabilia and everything in between.
Autos For Sale or Lease
Find the car of your dreams, quality local vehicle ad listings.
Real Estate Rental & Sale
Rent a vacation home, the perfect apartment or a home to rent or buy.
Community
Volunteer, Educational classes, resumes, Services and professionals and other opportunities.
Garage , Estate & Yard Sales
One man's junk is another man's treasure. Plan your weekend hunting for treasures.
Pets & Animals
For sale listings and all related services to keep them healthy.
While browsing ads, save items you are interested in by signing in at the upper right and creating a My Saved Ads list. Requesting information and coresponding with sellers is done safely though our system using a form so that no one is giving out their email address. You can also share interesting ads on facebook with one click of the Recommend button.
Posting an ad is step-by-step, log in here and click start building your ad. First you will need to select your category and then click on your selected category to reveal the list of different Classifications. Select a classification and you are well on your way to posting an ad.
Listings in the Merchandise, Garage sale and community sections can be posted for free for a limited number of days and you can upgrade and enhance your listing to make it stand out. The newest enhancement is the Spotlight feature which gets your ad on MyMotherLode.com's homepage for only $25(See Photo).
Our most popular section is Job Listings & Recruitment. Jobs posted here are from local companies who get a great deal with $10 for a 10 day listing or 30 days for $15. The full list of ad prices is here. If you want an archived ad that was posted before August,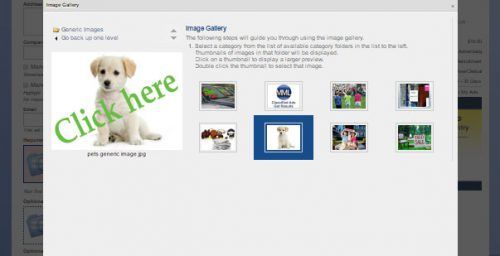 or have other questions contact us with this form. We will be able to provide your old ad's text for a limited time.
Another new feature of the classifieds system is including an image with every listing. Don't worry if you can't find an image, just select one from our gallery of images.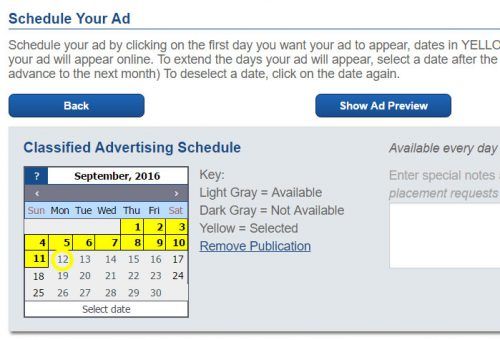 The first photo is free and additional photos are $1 each.
Choosing the dates you ad will run has changed. Once you choose the date your ad will start a default number of yellow days will show you the minimum number of days your ad will run. To extend an ad longer choose each date after the last yellow day until you have consecutively highlighted each of the days you want your ad to be seen on myMotherLode.