Is a New Job in Your Future?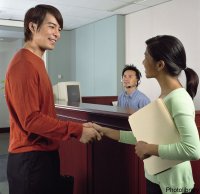 (ARA) – In the new year many of us evaluate our lives and try to make positive changes. Whether it is quitting a bad habit, improving health or finally going back to school, the new year is the perfect time to make personal improvements. Many people use this time to evaluate their job satisfaction and are finding that now is an ideal time to look for a new job.
According to Yahoo! HotJobs' annual job satisfaction survey, 72 percent of employees are open to a new career opportunity in 2008. More than four out of ten employees (43 percent) blame either dislike of their boss' management style or lack of mentorship at their company as the reason they would be willing to leave their current job, and the majority of respondents agree that 'people don't leave companies, they leave managers.'
'Having a fair, sympathetic manager who makes employees feel valued is a crucial element to an employee's job satisfaction,' says Yahoo! HotJobs Managing Editor, Tom Musbach. 'A good manager will remember that it's important to offer intangible benefits like work-life balance, positive recognition and opportunities for growth. These are just as relevant as the basics, like salary, benefits and vacation days, when it comes to making employees happy.'
Top Qualities of a Good BossHere are the top qualities that employees are seeking from their supervisors. For supervisors, exhibiting these qualities can significantly improve supervisor/employee relations and lead to better employee retention rates.
Communication/listening skills
Effective leadership skills
Trust in their employees to do their job well
Flexibility and understanding
Intelligence
Teamwork skills and even temperament (tie)
Interest in employee development
Ability to share credit
Successful in finding and retaining new talent
Presentation skills
Earn More Job Satisfaction Employees have raised the bar when it comes to job satisfaction, expecting their employers to offer more — whether it is salary, respect, work-life balance or even vacation time. If they're not getting what they feel they deserve, they might join the 30 percent of employees who are not only open to new job opportunities, but who are actively looking for a new position in 2008.
Employees should regularly re-evaluate their standing in the workplace to ensure their career needs are being met. Here are a few job evaluation tips to help employees look at their career from a 'big picture' perspective:
Schedule regular 'update' meetings with your boss to discuss your strengths, weaknesses and progress towards your career goals.
Ask for what you want. If you want a raise or more responsibility, it is important that you ask for it. Don't just assume it will automatically come to you.
Be prepared. Keep a list of your career successes and lessons learned handy so that you can easily justify your request for more salary or responsibility.
If your regular career evaluations lead you to the conclusion that growth in your current position has stalled, it may be time to move on. Here are a few suggestions for taking that next step:
Develop a list of pros and cons about your current position and a list of aspirations for your next job. Then, research companies and positions that fit the bill.
Think of your resume as a billboard, not an encyclopedia. Keep it short and tight by including action verbs and performance metrics.
Make sure everyone in your network knows you are looking for a new position. There is a job opportunity lurking around every corner.
Take advantage of online search agents, RSS feeds and job recommendation services like the ones on Yahoo! HotJobs. Not only will they notify you when a new position is posted but they'll even make recommendations that fit the criteria found in positions to which you have already applied.
Yahoo! HotJobs' offers a 'Career Check-In' tool to help people assess their job satisfaction and career development opportunities. Visitors to http://hotjobs.yahoo.com can take a career assessment quiz that will give users advice about their current employment situation and offer possibilities for the future.
Courtesy of ARAcontent
---