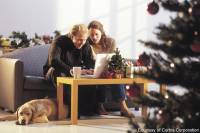 (ARA) – Holiday shopping can be not only stressful but a daunting task. Each year shoppers venture into crowded malls, battle busy parking lots and spend valuable time waiting in line. Many are turning to online shopping this year to save time, money and to cut down on their frustration.
A record 114 million people will make purchases online this holiday season with sales totaling $32 billion, according to Jupiter Research. Like Black Friday for traditional retailers, Cyber Monday – the Monday after Thanksgiving – is the official kick-off of the online holiday shopping season.
Despite the convenience of shopping from your comfortable chair at home or desk at work, many people are still hesitant to shop online due to the vast amount of information to sift through and safety concerns.
'It's important to shop smart and safe when you are shopping online. This can be easy to do if you follow a few simple rules,' said Shannon Clouston, online shopping expert and chief shopper for Shopping.com, a comparison shopping Web site. 'Following these rules can save you time and money while finding the perfect gift for everyone on your holiday list.'
Deal Only with Reputable Retailers
When shopping online, rely on stores you are familiar with, or retailers that get positive reviews, ratings and customer feedback. Some comparison shopping Web sites allow customers to review and rate vendors. Use this information, like Shopping.com's 'Trusted Store' seal, to determine the reputation and quality of each merchant before you buy.
Use an Online Comparison Shopping Site
When deciding where to start your online shopping, consider an online comparison shopping Web site that conveniently collects a large amount of data from a variety of retailers. Comparison sites allow users to read unbiased product reviews so they can educate themselves before buying a gift for that special someone.
Look for the Best Price
One of the greatest advantages to shopping online is having access to not just one store, but thousands. For quick access to various stores, comparison Web sites let you search for a product and determine the lowest price from many different retailers.
Utilize Convenience Features
The greatest reason for shopping online? It's convenient and saves time. Look for Web site features like shopping by brand, product snapshots and other timesavers. Shopping.com even has features that show you the most popular products in various categories as well as a sort by price feature that lets you pick the price range that fits your budget.
Determine Final Cost
When evaluating your purchase, be sure to calculate shipping and handling costs into the total cost of the product. Use a Web site that shows the final cost, including shipping to your zip code, not just the product cost.
Order Ahead
Online shopping is a big timesaver, but remember to allow plenty of time for delivery. Avoid extra charges by shopping early.
This holiday season you can skip the hustle and bustle and be confident by doing your holiday shopping online. These tips will help guide you through a safe, convenient and stress-free holiday shopping experience while you easily find that perfect present.
Courtesy of ARA Content
---