E-value-ating Your Shopping Strategy for Quality Kitchen Cabinets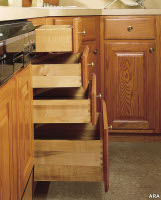 (ARA) – At a time when people are remodeling their homes instead of buying or building new ones, homeowners are looking for ways to increase the comfort and value of their current living space without breaking the bank.
'It's all about value today,' says Connie Edwards, certified kitchen and bathroom designer and director of design for Shenandoah Cabinetry. 'Consumers are smarter then ever — doing their homework to make sure they get the highest quality product at the best price.'
When choosing cabinetry, there are certain characteristics homeowners should look for. Edwards offers some useful tips:
Finishes
Finishes today require less care and upkeep than those of the past. Here are a couple of good things to look for when selecting cabinets:
* Cabinetry with a moisture-resistant finishing process helps prevent peeling and chipping on the inside of the cabinet.
* Cabinets with ultraviolet protection minimize darkening or lightening of cabinet colors due to sun exposure over time.
Standard Construction Features
When it comes to cabinetry, stock cabinets are the most budget friendly. Look for stock cabinet manufacturers, such as Shenandoah Cabinetry sold exclusively at Lowe's, that offer premium construction features as standard. Some of those features may include:
* Dovetail hardwood drawers provide furniture-like quality and style.
* Full access hidden drawer glides open all the way, making it easy to use every inch of space.
* Adjustable, full-depth shelves with metal shelf rests on wall cabinets give extra stability for heavy items.
* Steel ball bearing drawer glides assure smooth drawer performance and easy operation.
Warranties
Some cabinet manufacturers offer a lifetime limited warranty. This assures the manufacturer will fix any problems due to defective materials or workmanship, ensuring your investment is protected.
Retailer Options
Retailers often offer ways to help you afford bigger ticket items or finance your investment:
* Special payment programs, such as Lowe's 'Special Projects Card,' allow a 6-month 'project window' to make purchases with no payments due or interest accruing.
* Take advantage of special promotions like a free sink base or factory rebate with purchase.
By being aware of quality characteristics and value options, you can create your own personal living space at a price you'll like. Visit your local home center and talk to a kitchen design specialist about available options to fit your lifestyle and budget.
For more information and to view an assortment of kitchen design ideas, visit www.ShenandoahCabinetry.com.
Courtesy of ARAcontent