Take a Cue From Mother Nature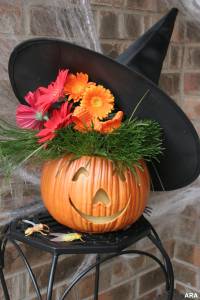 (ARA) – As the leaves on the trees begin to change color, so does taste in home décor. The transformation from a green landscape to one filled with rich russet colors and bright Halloween hues inspires us to bring all that color inside to enjoy.
Redecorating for fall doesn't mean you have to paint the walls or switch out the furniture. You can change the look and feel of any room by simply accessorizing with such things as slip covers and pillows, throw rugs, artwork and flowers.
'Whether you're trying to create a warm and friendly space or a frightful look to greet the trick-or-treaters, fresh-cut flowers make it easy to create the mood,' says Jill Slater, flower designer for flowerpossibilities.com.
Especially popular in flower arrangements this time of year are fall leaves, pine cones, red and yellow spider mums, marigolds and evergreens. Instead of putting the flowers in a vase, cut up a pumpkin or other gourd, put a block of floral foam inside and start adding stems. Perk up your display by placing the pumpkin on a bed of Fall leaves surrounded by a ring of evergreen sprigs and cranberries.
Want to get even fancier than that? Here are directions for an arrangement that's sure to get you some accolades, particularly if you put it on display on Halloween night:
Hair-Raising Halloween Arrangement

Materials:

Jack-O-Lantern, faux or the real deal, approximately 8- to 10-inches in diameter- (carved eyes, nose, mouth are optional)
1 sheet yellow construction paper
Water-proof liner for the inside of the Jack-O-Lantern.
2 bricks floral foam
2 wood picks or 1 wood shish kabob skewer
1 bunch bear grass
4 to 5 rubber bands
2 stems orange germini's (miniature gerbera daisies)
3 stems orange gerbera daisies
4 stems papyrus
1 dozen greening pins or 5 lengths of straight heavy gauge straight wire
Witches hat
Half a yard orange decorative ribbon, 1/2-inch wide
Foral clippers, scissors, paring knife and flower food
Directions:

Soak the floral foam thoroughly in water that has been treated with flower food.
Fill the water-proof liner with one block of floral foam and insert it into the pumpkin (carve the foam to fit). Insert two wood picks (or cut shish kabob skewers) partially into the top of the foam. Now set the other brick of foam on top of the first piece, inserting it into the wood picks/skewers.
. With a paring knife, carve the foam that is sticking out of the pumpkin into a cone shape.
Divide the bear grass into four or five smaller bunches and rubber band the individual bunches.
Starting at the rim of the pumpkin, where the foam first juts out of the top of the jack-o-lantern, begin wrapping the bear grass up and around the foam cone. Wrap the bear grass around the foam, tightly, using greening pins as you go to hold the bear grass in place. (If not using greening pins, cut the straight wire into 3-inch lengths; bend in half to form a bobbie-pin shape. Use these wire pins in place of greening pins.)
Repeat step five until the entire foam cone is wrapped with bear grass.
Now set the witch's hat partially over the cone. Pin it in place.
Cut the papyrus stems approximately 2-inches in length, and insert them into the 'bang' area of the jack-o-lantern (above the eyes). With scissors, cut some of the bangs short and leave some long.
Insert the gerbera and germini daisies just above the bangs.
The ribbon gets tied into a bow, as you would tie your shoe, and is attached with a greening pin.For more ideas on how to use flowers to dress up your home for fall, log on to a href='http:// www.flowerpossibilities.com/' target='_blank'>www.flowerpossibilities.com
Courtesy of ARA Content
---