Extend the Enjoyment of Outdoor Living Spaces This Fall with the Right Design Elements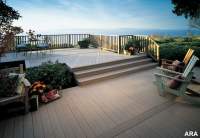 (ARA) – With the increasing popularity of outdoor living spaces, it's no surprise that homeowners are putting more effort into choosing the best outside decor for relaxing and entertaining at home on their decks – and not just in the summer time. By adding comfortable amenities and seasonal design details, homeowners are enjoying outdoor living spaces for longer periods in the year.
It's easy to enjoy outdoor areas in the autumn months by bringing indoor elements and conveniences outside. With a few added touches, your outdoor living space can help define your home's fall look and extend outdoor gathering time with family and friends.
Transfer Indoor Style Outdoors
Carry the colors, themes and patterns of your interior design to outside spaces with furnishings and accessories in materials that are all-weather friendly. Place cushions and pillows in weather-resistant and stylish fabrics on outdoor seating. If summer activities have taken a toll on your outdoor furniture – or your existing outdoor furniture is made of materials that are less weather-resilient – consider investing in more durable furniture pieces. Reflect nature's autumn tones in outdoor rugs and set stylish throws and blankets on the back of chairs or sofas. In colder climates, place outside space heaters near seating areas to ward off the evening chill.
Privacy Matters
Outdoor areas that are exposed and lack privacy can become a welcoming space by hanging curtains. Strategically placed planter boxes filled with autumn blooms or decorative pots with tall, dense plantings provide an attractive screen from neighbors. Furniture configurations that form an enclosed setting lend a sense of privacy and invite casual and relaxing conversations. Or consider setting a durable, outdoor privacy screen around lounging areas for added comfort.
Light it Up
As the days get shorter, the proper lighting allows you to spend time in your outside room well into the evening, enjoying the crisp fall air. Determine which areas of your deck need brighter lighting, and which to downplay with softer light. Place candles, lanterns or outdoor lamps on tables or consider low-voltage landscape lighting, which is both energy-efficient and affordable.Another option is to use decorative electric lighting to add ambiance. You may not need to look any further than your deck railings for added conveniences to install wired outdoor lighting. Some deck manufacturers are now including built-in features that make adding exterior lighting – and even audio or security system wiring – to your deck easy. For example, ChoiceDek composite decking, a Weyerhaeuser product, features railing components that come pre-grooved to allow homeowners to run wires inside the handrail or bottom rail, accommodating easy installation of outdoor lighting. The right lighting makes all the difference in how your evenings will be spent outside.
Don't Forget the View from the Outside In
Add to the serenity of your outdoor room by avoiding decor that distracts from or clashes with the exterior of your home. Decorations and furnishings in classic autumn shades that blend with the exterior of the house create a restful atmosphere and visually tie the outdoor living space to the exterior of your home. Use your outdoor space to unite design elements with both outside architecture and inside decor – one setting should appear like an extension of the other.
The Element of Surprise
Use nooks and other unused spaces in your outdoor room to add variety. Set an unusual plant or hang unique artwork in an unexpected place. Outdoor art prints are more plentiful than ever, giving homeowners a variety of options for seasonal color. You and your guests will delight in the refinement and style that inventive decorative pieces add to your outdoor room.
Consider a Fresh Start
If your outdoor living space is due for a complete overhaul, fall is the perfect time to consider replacing a worn deck – and incorporating fresh design and color into your new outdoor area. Two-color deck design using composite materials is taking outdoor spaces beyond drab, one-color surfaces. 'Incorporating geometric designs and patterns in different colors or including complementary railing components is an increasingly popular way homeowners are bringing unique style to outdoor living areas,' says Sue Snuggs from Weyerhaeuser. 'ChoiceDek composite decking not only offers design flexibility with four color options, it is low-maintenance and withstands demanding exposure to the elements, making it a smart choice for extended outdoor living.' Today's outdoor rooms are being constructed with personal style and long-term design and durability in mind.
Make the most of your outside living space this fall by choosing the right decorative elements and amenities that fit your needs. Prolong the relaxation and fun in your outdoor room with a creative approach and the right materials, or take full advantage of the growing options in amenities and design to create a new outdoor space. The end result is the ultimate outdoor haven to usher in fall. To learn more about the low maintenance of ChoiceDek composite decking and railing products that combine modern durability with the classic appearance of wood, visit www.choicedek.com . In the United States, call (800) 951-5117 to speak with a Weyerhaeuser representative.
Courtesy of ARA Content
---