2007 Trend Alert: Accessories for the Fence and Deck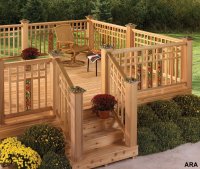 (ARA) – Home may be where you hang your hat, but the backyard is where you hang out. Today, backyards are losing ground to space under the roof, as well as shrinking lot sizes. That makes their limited square footage take on a heightened importance.
'Today's backyard is considerably smaller, the result of consumer desire for low-maintenance lifestyles, as well as master planned communities that provide neighborhood amenities like parks and pools,' says Chelsey Gardner, an exterior design expert with Dallas-based Creative Curb Appeal.
What used to be as simple as putting in a lawn and swing set has become the quest for a space that serves the entire family. Atmosphere and ambiance are key words, and consumers are making it happen with elaborate decks, outdoor fireplaces, comfortable patio furniture, and attractive mood lighting.
And the trend is sure to continue. Experts expect spending on outdoor home improvements, furnishings and accessories to reach into the billions this year.
But not everything you do in the yard has to cost a lot of money. Sometimes the smallest details can be just the right touch to make your outdoor space your own.
'The biggest trend is that consumers want variety in the backyard just like they want it inside their homes. They don't want the same thing in their yard that their neighbors have,' says Rick Preble, president of Maine Ornamental, the nation's largest manufacturer of post caps and deck and fence accessories.
Maine Ornamental's business has grown with the outdoor living trend. The founder, Dana Smith, began crafting decorative post caps in his basement in the mid-1980s as the finishing touch for ornamental New England-style fencing.
His business took off — big time, and today the company makes more than 300 different post caps and decorative accessories for use on decks, fences, porches, mailbox posts and other post applications. The products are available at lumber retailers and home improvement centers nationwide, and the company is now the largest manufacturer of post caps in the US.
'Post caps used to be primarily a functional item, designed to protect the posts from weather related degradation, but today they are an integral part of the design of a deck or fence,' says Preble.
With materials ranging from mahogany, pine and ipe to copper and stainless steel, and post caps that include sundial designs, large wooden balls, and hand-crafted Tiffany-style stained glass designs, Maine Ornamental has grabbed a place in the backyard decorating marketplace. This year, the company added an additional feature — solar-powered LED lights — available on select post caps in several different styles and sizes.
'People spend time outside both during the day and night. Outdoor lighting is an exploding category. When you add it to a deck or fence it changes the entire mood of the environment,' Preble says.
Tiffany glass is beautiful enough during the day when the sun is shining, but when lit up at night it creates a work of art, as well as an intimate glow and atmosphere that the homeowner desires. Maine Ornamental's Tiffany-style Solar Lighted Post Caps, available nationwide this spring, are available in two sizes — 4'x 4′ and 6'x 6′ to fit standard deck and fence posts. They come in three different styles: California Grape, Sunflower and Mission.
Consumer demand for selection, style and quality craftsmanship is responsible for the success of companies offering backyard and patio accessories for outdoor decorating. A company's innovation and product evolution helps keep customers coming back and wanting more.
'Just as homeowners decorate the insides of their homes to suit their individual tastes, they want their backyard and even details as small as the post caps on their fence or deck to reflect their style and personality too,' says Gardner.
Installing simple accessories like post caps is an easy do-it-yourself project. Consumers can see the entire range of styles at Maine Ornamental's www.postcaps.com Web site. Purchasing information and retailer locations are also available on the site or by calling (866) 780-3507.
Courtesy of ARA Content
---