New Home Products Can Enhance Your Outdoor Living Experience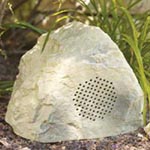 As outdoor temperatures increase across the country, so will your activities to prepare outdoor living spaces for warm weather enjoyment. In fact, in a new study commissioned by Ace Hardware, 44 percent of homeowners like you said simply sitting and relaxing in their outdoor space is one of the benefits of having a yard.
One way to bring further enjoyment to this experience is to add one or several of the newest, innovative outdoor living products to your environs:
Fire It Up –
Since the dawn of time, mankind has used fire to sustain life. Today, modern-day firepits play a different role by enhancing barbecue bashes and backyard beauty. Whether they're used for cooking, keeping warm or just gathering around, outdoor firepits will enliven your outdoor area.' Two of the more popular styles this season include the 'Copper Hooded Firepit' that is rectangular in shape and has a pagoda-style top, perfect for Asian-themed gardens ($199.99), and the 'Stainless Steel Bowl Firepit,' about 30 inches around with a one-piece, dome-shaped screen to prevent sparking ($99.99).
Tranquil Fountains Beget Serenity –
Fountains and other waterscapes add a relaxing touch to any outdoor area, with the peaceful flowing water that appeals to the eyes and ears alike. Decorative fountains and other water features are less expensive and require less work than installing a full pond. They're also easier to maintain and can be moved to suit the needs of your space.
There are a number of waterscaping options available this season. One is the 'Pillar and Ball Fountain,' a freestanding rectangular pillar supporting a ball that emits water from its top. The fountain is available in two heights: 24 inches and 41 inches, for $59.99 and $119.99, respectively.
Another option is the 'Fishing Boy Pond Fountain,' which is 27 inches in diameter, is made of a durable but lightweight poly-resin and depicts a boy fishing over the edge, and can be had for $129.99.
Rock To Your Rock –
The 'Garden Rock Speaker' offers a unique way to bring music, sportscasts and other ambient audio to your outdoor area. Disguised as a rock to subtly blend with your plants, flowers and greenery, the fiberglass casing houses a quality sound-producing speaker. At just $49.99, it's music to your ears.
Time and Temperature –
Need to monitor your time in the sun? A 'Radio Controlled Outdoor Wall Clock' heralds the hours and minutes and more – it's also equipped with a thermometer and hygrometer. Furthermore, the time is automatically set via radio control. All this for just $79.99.
Think about including some of these products in your outdoor space and watch it come alive. And remember, if you have home improvement questions and need a little advice, send me an email at asklou@acehardware.com – I'd be glad to help!
For home improvement advice, visit JS West Lumber & Ace Hardware Sonora, Ca. or visit www.acehardware.com and click on the Answers@Ace icon. Answers@Ace is an online resource with information for do-it-yourselfers about hardware and home improvement projects. The Everyday Projects section has pictures and detailed, step-by-step instructions for this and many more home improvement projects.
---
To speak to an Ace Hardware advisor in Sonora call: 209 532 7446.
---