Create an Outdoor Living Space in Your Own Backyard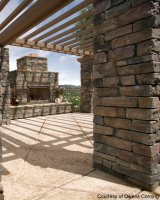 (ARA) – Today, almost everything you do inside your home is coming outdoors. From showers to kitchen sinks and everything in between, today's homeowners are utilizing the backyard to get more life out of their homes.
In fact, Americans spent nearly $150 billion on home remodeling in 2005 and according to the U.S. Census Bureau, one-third of those dollars went towards outdoor living areas. In 2006, almost two-thirds of architects saw a dramatic increase in outdoor living spaces which encompasses such things as decks, patios and outdoor kitchens.
Of course grilling outdoors has always been a favorite pastime, but with the creation of outdoor kitchens, the backyard barbecue has a new gourmet twist. These second kitchens allow for a different kind of cooking and dining experience.
But it is not just about a different way to cook, it's a lifestyle. Some homeowners choose to install an outdoor fireplace or firepit for the focal point and surrounded it with couches and chaise lounges for comfy conversation areas, taking entertaining to a whole new level.
To give your new features the appearance that they've always been a part of your landscaping, you'll want to surround them in manufactured stone veneer. Few building materials create as great warmth and appeal than stone and brands like Cultured Stone manufactured stone from Owens Corning provide a great deal of distinctiveness for the dollar.
Among the material's many benefits, it looks and performs like natural stone but is easier to install. Cultured Stone veneers are available in more than 100 different colors and more than 21 different textures to help add value and character to a project.
Getting Started on Your Outdoor Room
Pulling together an outdoor room is about creating an area that meets your idea of comfort and relaxation. The Hearth Patio & Barbecue Association offers these simple steps to help create the perfect outdoor room:
Jot down ideas about how the space will be used in all of its applications, from entertaining to relaxing.
Create a wish list. Find magazine and newspaper articles for information on outdoor living spaces. Clip pictures and put them into a notebook.
Review your home's style. Bring the indoor style outside, so the home's decor has cohesion. There are products available for every taste and style.
Get started with a pro. Visit a specialty retailer who sells hearth, barbecue and patio products. Take the notebook and wish list so they can see your plan and style. In addition to expertise and products, a specialty retailer can offer key insights about what's available in a particular area and what works best in a certain climate.
Consider fire and food. Position the fireplace as the focal point, blend in the cooking and eating areas as you would an indoor kitchen for usability.
Think foundation. Stone patios, retaining walls, fences and decks are basic foundation elements.
Draw a plan. The best way to achieve the desired end result is to sketch out a plan.
Build the space. Have fun putting the space together. Consider multiple conversation areas for enhanced functionality and interest.
Get ready to plan your outdoor living space by logging on to www.culturedstone.com to get ideas. The site features a photo gallery, detailed product information and technical resources, like downloadable literature and instructions, that may help you with your project. A site search engine can help you find the authorized Cultured Stone products dealers nearest you. If you don't have access to the Internet, you can call (800) 255-1727 for more information.
Courtesy of ARA Content
---