Considering Kitchen Styles- Part 3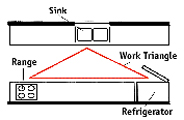 The next step-and the most fun-is to think about style. Chances are, you've seen kitchens that you like, in magazines, friends' homes, etc. The first question to ask is whether the style you like best will fit with your home. You may have loved European cabinets in the magazine, but they might not look as good in your Queen Anne Victorian.
Also, consider what kind of color changes you'd like to make-and whether your ideal colors would necessitate buying new appliances. When you choose colors, think of them in relation to surrounding rooms and try to find colors that complement the rest of the house.
Finally, consider your budget and any other remodeling that you might want to do. Sometimes, related projects are easier and cheaper when done at the same time as the kitchen.
For home improvement advice, visit JS West Lumber & Ace Hardware Sonora, Ca. or visit www.acehardware.com and click on the Answers@Ace icon. Answers@Ace is an online resource with information for do-it-yourselfers about hardware and home improvement projects. The Everyday Projects section has pictures and detailed, step-by-step instructions for this and many more home improvement projects.
---
To speak to an Ace Hardware advisor in Sonora call: 209 532 7446.
---