Ceiling Fan Assembly- Part 3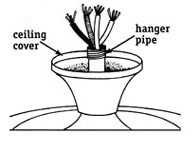 (ARA) ASSEMBLY
Fan assembly varies from brand to brand. Be sure to follow the specific instructions with the unit you buy. Regardless of the manufacturer's instructions, if the fan blades are less than a screwdriver's length away from the ceiling, it may be best to install the blades before hanging the fan.
The hanger pipe is usually placed into its hole on top of the motor. The wires are drawn up in the center. A set screw is tightened securely to make sure the pipe stays in place after it is threaded down.
Some fans have a separate motor hub into which the hanger pipe mounts. In this case, you'll place the actual motor housing over the hub.
Other fans have a two-piece decorative ceiling cover to hide the hole in the ceiling. It is installed after the fan has been hung on the ceiling (see image above).
Tighten the set screw well.
Other models use a hook, with the hanger bracket designed to accept it (see image).
To attach the fan blades, set the motor unit down where it will be stable. Often, the styrene foam packing for the motor housing makes an excellent stabilizer on your worktable.
Most fan blades have a two-pronged attachment, using screws that come through holes in the blades and into the flanges (see image). These need to be drawn up securely, but not so tightly that the threads are damaged or the laminated blade material is crushed. On many fans you'll find the flanges, or prongs, also need to be mounted to the motor housing. If this is the case, mount them before the flanges are mounted to the blades themselves.
For home improvement advice, visit JS West Lumber & Ace Hardware Sonora, Ca. or visit www.acehardware.com and click on the Answers@Ace icon. Answers@Ace is an online resource with information for do-it-yourselfers about hardware and home improvement projects. The Everyday Projects section has pictures and detailed, step-by-step instructions for this and many more home improvement projects.
---
To speak to an Ace Hardware advisor in Sonora call: 209 532 7446.
---