How to Find Great Windows — It's All About Research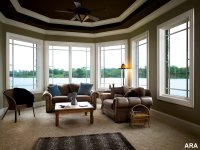 (ARA) – Replacing your home's existing windows or choosing windows for a new home is an important decision. The materials, features and options are vast and understanding which windows and patio doors may be best can be difficult.
There are about 2,000 different window manufacturers that collectively produce a range of products from inexpensive vinyl windows with few if any options to wood and aluminum-clad wood with unlimited options and design features. So, where do you start?
The Internet
The Internet is great for researching windows and doors, as many manufacturers highlight the features and benefits of each of their products. These Web sites may also offer tutorials to help you understand window and door construction and terminology. A good place to start: Peachtree Doors & Windows offers tutorials on windows and doors at: www.peachtreedoor.com.
'The Internet is an excellent way for homeowners to become acquainted with window and door manufacturers and their products, and to develop a short list of preferred manufacturers,' says John Anderson of Peachtree. 'The Internet shouldn't be the only stop in researching windows and doors though. Homeowners should see products in person and talk with a knowledgeable salesperson or contractor before making a decision.'
After conducting initial research on the Internet, get a firsthand account of a product's performance, actual price and features from a home improvement retailer, window and door dealer, or a building or remodeling contractor. Many manufacturers' Web sites can direct you to the store or dealer nearest you. Home Improvement Retailer
Home improvement retail stores display a selection of window and door brands and styles, and often inventory many standard sizes and most-requested styles. If you'd like particular options or a specialty shape, the salespeople can place a special order with one of the manufacturers they sell. Keep in mind, if you're perusing for the brand you saw on the Internet, it may not be carried at the store down the street as these stores carry only a few brands.
These stores have the corner on convenience. Many carry a large variety of millwork and other products, so you can pick up caulking and shims at the same time. Many also can handle installation for you or recommend a contractor to install your windows.
Window and Door Dealer:
At a window and door dealer, you'll generally find a more consultative sales approach. The salespeople are well versed in product lines, home construction, remodeling and even building codes, and can help you determine what will work best for your project. Larger dealers often have extensive showrooms that give you an up-close look at many different product lines and design options in display walls, which provide context as to how a product looks installed.
'Window and door dealers offer consumers a broad level of expertise,' Anderson says. 'They are in the window and door business to educate builders, remodelers and homeowners on the latest product innovations and can also be a source for installation or design consultation.'
Dealers primarily serve professional contractors but welcome homeowners as well. If you are unsure of the more complex components of windows and doors (which is why background research is important), well-versed dealers may skim over product details quicker than you'd like.
Installed Sales
Maybe you've already been contacted by a person soliciting window and door installations. Installed sales companies pique homeowners' interest through direct mail flyers or door-to-door sales of replacement windows. They offer convenience because you can buy their windows and doors and have them installed by the same company, making the project's turnaround time relatively quick. You also don't have to do any research on window professionals; instead, they come to you.
Installed sales are convenient, but like a doctor's analysis, you may want a second opinion to verify the quality and performance of the windows and doors to be installed. If you're a person 'on the go,' you might enjoy the no-hassle treatment, because it saves you time and mileage.
Choosing where to buy your windows and doors is an important decision, but it doesn't have to be a lengthy undertaking. By researching brands, products, styles and options online before visiting a retailer or showroom, you'll be more comfortable talking with a salesperson and more likely to choose the windows and doors best suited for your home and your lifestyle.
Courtesy of ARA Content
For home improvement advice, visit JS West Lumber & Ace Hardware Sonora, Ca. or visit www.acehardware.com and click on the Answers@Ace icon. Answers@Ace is an online resource with information for do-it-yourselfers about hardware and home improvement projects. The Everyday Projects section has pictures and detailed, step-by-step instructions for this and many more home improvement projects.
---
To speak to an Ace Hardware advisor in Sonora call: 209 532 7446.
---