How to Get Your Driveway in Tip Top Shape for the Winter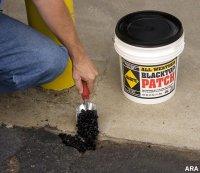 (ARA) – Winter is quickly approaching and that means time is running out for those all-important DIY projects that you need to complete before the first frost.
Because of the fluctuating temperatures approaching nationwide, both asphalt and concrete driveways will soon be subject to cracking and splits. When water seeps into cracks and crevasses and then freezes, the water expands causing existing cracks and holes to get larger. If you don't want to spend next spring repairing the damage or worse, resurfacing the entire driveway, take the time now to up your home's curb appeal and get it ready for winter.
'Fixing concrete and asphalt areas before winter arrives is key,' says Mark Goldstrom, concrete and asphalt repair expert from Sakrete, a company that has been a leader and innovator in concrete and asphalt repair products since 1936. 'The holes and cracks must be filled and sealed before any water is allowed to freeze inside.'
Concrete and asphalt repair is easy and can be completed in less than a day. Here's how to repair large cracks and worn areas in concrete driveways:
First, you need to remove all deteriorated and foreign material from the area to be repaired. Then, slightly undercut the side of the repair area with a hammer and chisel. Keeping the side of the repair area vertical or slightly undercut provides a better base for the repair material.
Next, saturate the area with clean water. Just before the new repair material is applied, sweep away any standing water. Apply a slurry coat of Sakrete Top 'N Bond (follow instructions on packaging). This can be used on horizontal and vertical repairs. For smaller cracks up to 1/2 inch wide, use Sakrete Concrete Crack Filler.
Here's how to tackle potholes and cracks in asphalt driveways:
Chisel out loose blacktop, ensuring that the sides are vertical. Be sure to remove all loose particles, dirt or grass. If sub-base is loose, remove the unsound portion and replace with clean compacted gravel or stone.
Pour a two-inch layer of Sakrete All Weather Blacktop Patch in the area to be repaired. Then, compact with a tamper or 4×4 post until material reaches a one inch thickness. Place and compact additional layers until the desired thickness is achieved.
Riding over the patch with a car will not provide sufficient compaction. Compaction must be sufficient to cause the stone in the blacktop to lock together and minimize voids in each layer. If the blacktop is not completely compacted, the patch will remain soft and the material may not stay in place.
For cracks up to 1/2 inch wide, use Sakrete Blacktop Crack Filler. Once the crack is filled in, complete the job by putting down the Sakrete Blacktop Sealer which comes ready to use, has a smooth texture, and once applied, gives your driveway a shiny jet black finish.
For more detailed directions on both concrete and asphalt repair, log on to www.sakrete.com and click on the concrete and asphalt repair tab. Come spring when your neighbor's driveway is cracking apart and yours is in one piece, you'll be glad you did.
Courtesy of ARA Content
For home improvement advice, visit JS West Lumber & Ace Hardware Sonora, Ca. or visit www.acehardware.com and click on the Answers@Ace icon. Answers@Ace is an online resource with information for do-it-yourselfers about hardware and home improvement projects. The Everyday Projects section has pictures and detailed, step-by-step instructions for this and many more home improvement projects.
---
To speak to an Ace Hardware advisor in Sonora call: 209 532 7446.
---