Dreaming of a Green Christmas? Gardening Gift Ideas Brighten the Holidays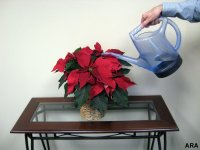 (ARA) – As the holidays approach, many of us dream of a white Christmas. But indoors, it's likely that you have several plants to brighten your home. Whether a small herb garden or a collection of outdoor plants you brought inside to nurture through the cold weather, greenery makes the holidays and the entire year brighter. Gardening gifts are perfect for the person who has everything because it encourages the enjoyment of plant life and flowers all year long.
According to the National Gardening Association, more than 75 percent of Americans enjoy gardening, making it one of the most popular pastimes in the country. This holiday season, don't forget your favorite garden enthusiast. Just because the weather outside is chilly, doesn't mean there aren't plenty of great gardening ideas that can be used now and all year round. Here are some gift ideas for those dreaming of a green Christmas:
Oxygenized WaterPlants need water, sun and nutrients to survive, but recent studies have shown oxygen is another key element for successful plant growth. The Enki watering system takes this knowledge and puts it right in the hands of gardeners. The enhanced watering pitcher oxygenates water by up to 150 percent, far surpassing the oxygen levels in tap water or even that of rain water.
This new pitcher provides oxygen in the water to help encourage better root systems.
Tests conducted by a professor at the University of Minnesota's Department of Horticulture reveal the system's substantial benefits. Super oxygenated water helps to achieve earlier flowering with more vibrant colors, and increased numbers of flowers and vegetables.
Enki is the eco-friendly way to enhance plants by stimulating the roots. This unique gift idea can be used right away because it benefits both indoor and outdoor plants with visible results.

Books
Books are a great way to keep your favorite gardener educated. With the wide variety available, choose one that suits their interests. From flowers to herbs to vegetables, there are essays and informational books to encourage successful gardening. If you're not sure, pick a book about plants local to the region. General how-to books are also great because they can be a good reference throughout the year.
Classes
Gardening classes are conducted year round at gardening centers and nurseries, schools and community education centers. Why not give the gift of knowledge for the holidays? Whether for your mother, the family gardener, or your cousin who just moved into a new home, a gardening or landscape class can benefit them now. They might meet some new people that share their interest or can help answer their questions.
Indoor Plants and Accessories
According to the National Gardener's Survey, 43 million Americans participate in some type of indoor gardening. This holiday, get that special someone something they can enjoy today. An indoor herb garden is a simple gift that is easy to care for and provides fresh herbs for cooking. Seasonal plants are great too, and poinsettias are particularly popular for the holidays. Pair one with the Enki watering pitcher and you have the perfect gift that keeps giving as the plant flourishes. Special indoor gardening tools make great gifts because they are created particularly for indoor use and are helpful for successful indoor gardening.
For more information on great gardening gift ideas, visit www.MyEnki.com.
Courtesy of ARA Content
For home improvement advice, visit JS West Lumber & Ace Hardware Sonora, Ca. or visit www.acehardware.com and click on the Answers@Ace icon. Answers@Ace is an online resource with information for do-it-yourselfers about hardware and home improvement projects. The Everyday Projects section has pictures and detailed, step-by-step instructions for this and many more home improvement projects.
---
To speak to an Ace Hardware advisor in Sonora call: 209 532 7446.
---