Faucet Trend: Touch Free Comes Home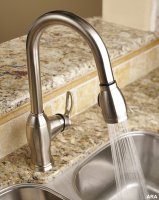 (ARA) – On average, a bathroom remodel costs $15,789 and a kitchen remodel costs $55,503 according to Remodeling Magazine's 2007 Cost vs. Value report. But you don't need to spend thousands of dollars to get a fresh look in your home. Focus on the items that get used the most, like the faucet.
'The faucet is really a focal point in the bathroom and kitchen,' says Andy Martin of Fontaine Faucets. 'It's the item that gets used the most, and therefore, it always gets noticed. A new faucet is like an instant facelift that can provide upgraded style, functionality, or both! And it's one of the more easily accomplished DIY projects.'
The faucet has come a long way from years past when it was simply a means of delivering water inside the home. It has become a centerpiece of style. Now, taking that evolutionary step beyond just beautiful designs and great finishes, technology is starting to play a role in the world of water delivery. Helping to combat the spread of germs, conserve water, and help our environment, technology in the form of hands-free operation is making its mark in our homes.
Touch-free faucets are now available for residential use and are becoming increasingly popular in homes around the country. These new faucets offer homeowners a myriad of advantages:
Increased hygieneUsing a faucet that doesn't require touch is effective in reducing the spread of germs. Airports and other high-traffic public places have used the technology for years. Touch free provides better hygiene and keeps areas looking cleaner for longer.
Residential styles with commercial functionalityChances are you've used a touch-free faucet at your local mall or restaurant bathroom. These faucets were created for the commercial environment. As the technology was being developed to focus on home design, the faucets expanded beyond the simple, sterile metal look that you are used to. Now touch-free faucets are available in a variety of finishes and styles that embrace design elements that you'll find in some of today's most popular home decor magazines.
Superior sensorsIf you've ever stood in front of an infrared-sensing faucet waving your hands in an effort to elicit a stream of water, you know why the technology hasn't made its way into homes. Fontaine Faucets' Sensa Field technology senses a user from any angle using an invisible field. This technology has advanced so that these faucets have the ability to function automatically whenever your hands are anywhere near it. The sensing zone surrounds the entire spout, ensuring activation every time a user's hands approach.
Increased water conservationThe technology enhances conservation efforts by doing away with unnecessary and unattended water flow. The faucet simply isn't running unless it is currently being used. This can save homeowners on water consumption, not only helping the environment, but their bank account as well.
The wow factorBecause this is such a new concept, guests in a home are sure to notice the new technology and are bound to be impressed. It's something that you won't usually find at your neighbor's house.
'Homeowners looking to update their kitchen or bathroom should simply take hints from new trends,' adds Martin. 'A new faucet and a fresh coat of paint in a modern color might be just the trick to revitalize your room without a hefty price tag.'
To learn more about Fontaine Faucets' Sensa Field technology, visit www.fontainebrands.com.
Courtesy of ARAcontent
---