From Common to Customized – Add Value With Details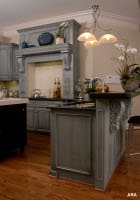 (ARA) – Whether you're selling your home or planning to live there for years to come, you can add interest and value using architectural elements. Customizing your kitchen, bath or master bedroom is a simple way to set your home apart and increase the 'wow factor' of those particular rooms, which real estate agents say sell houses.
Architectural elements are the unique details that form the architectural style of houses and buildings. These include anything from stairways and fireplace mantels to columns and ornaments. Examples of architectural details are found in every design style from intricate Victorian gables to modern clean-lined ceiling domes.
Here are a few easy design tips that use architectural elements to bring your kitchen, bath or master bedroom from ordinary to extraordinary.
Kitchen — From Lackluster to Luxury
Stock cabinets can be plain and boring. Add decorative corbels (an architectural support bracket), panel and crown mouldings to create a high-end, customized appearance.
Add a ceiling medallion above the breakfast bar or table. Whether simple or elegantly embellished, a medallion will enhance any light fixture and create a focal point.
Build an 'oven nook.' Using a shelf or fireplace mantel and some decorative corbels, you can create the look of a custom built-in cooking station found in model homes.
Bathroom — From So-so to Spa
Switch out the simple wood trim around doors for elegant casings and add a chair rail at mid-wall height. For a look featured in four-star hotels, paint the wall below the chair rail a muted, relaxing color and use a slightly lighter shade of the same color above the chair rail.

Add a decorative shelf or mantel for display of art, plants or your favorite fragrance bottles.
Add to the height of the bathroom by installing a round or elliptical dome. A dome will allow for a larger, more dramatic light fixture while adding depth like a tray ceiling.
Master Bedroom — From Routine to Relaxing
Trimming the bedroom with crown moulding shows attention to detail and complements rooms of any style.
Add a niche to your wall for dramatic display space. Highlight special photos, keepsakes or a piece of art.
Create a custom headboard using architectural plaques, ornate corbels and decorative swags. A custom headboard allows you to show your style and offers an elegant space to frame the room's largest piece of furniture.
Adding architectural elements to customize the spaces in your home doesn't have to be difficult or expensive. Lightweight, decorative mouldings and other elements are available through companies like Focal Point Architectural Products, which specializes in closed-cell polyurethane products that won't rot or mildew. The pieces look like plaster and wood, but offer a cost-effective and time-saving alternative to traditional materials.
For more information or design inspiration, visit www.FocalPointProducts.com or call (800) 662-5550 to find a dealer near you.
Courtesy of ARAcontent
---