How to Have a Beautiful and Fruitful Garden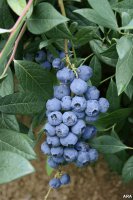 (ARA) – Many gardeners who love their ornamental landscape are not sure if they want to give up space for a vegetable garden that needs to be replanted every year. Fortunately, there are dozens of incredible edibles that add beauty and style to the garden — and provide a bounty of fruits and herbs.
Monrovia, a leading plant grower, offers these suggestions for easy-to-grow edibles:
Fruit trees make a beautiful addition to the garden or in a container on a patio. Citrus, with its glossy green foliage and fantastic fragrance, can provide an abundance of oranges, grapefruit, tangerines, lemons and limes. Nicholas Staddon, new plants director for Monrovia, suggests the Variegated Calamondin Orange, with stunning green and cream-colored foliage. Even the fruit is variegated with a pale green stripe. The Moro Blood Orange has bright red-fleshed fruit with a delicious flavor; and the Meyer Improved Lemon produces a crop of juicy fruit twice a year. Gardeners in colder climates can easily grow citrus in containers and winter them indoors.
Pomegranate trees have brilliant orange flowers and will yield a crop of big red fruit that are extremely high in antioxidants. Quince is a spectacular flowering tree that produces a tart fruit that makes fantastic jams. Try the Super Red Flowering Quince and enjoy huge bright red blossoms, or the Cameo Japanese variety, with delicate apricot-pink blooms.
Blueberries, according to Staddon, are the hottest edible for home gardens. Perhaps it's because this delicious, antioxidant super-food is quite pricey in the supermarket, yet one plant can produce six to seven pounds of fruit. Blueberries are surprisingly easy to grow throughout the United States — even in warmer regions. Monrovia suggests the Southern Highbush varieties like ONeal, Sunshine Blue, Jubilee and Southmoon. These are extremely tolerant of heat and humidity and don't require a pollinator to produce fruit.
For the colder parts of the country, plant the Northern Highbush varieties, such as HardyBlue, Patriot, and Spartan, or the really cold hardy Half-High varieties Northblue and Northsky. These do require a pollinator, meaning that you need to have at least two different varieties with similar bloom times, planted close together. Blueberry shrubs have a fantastic array of white to blush-colored flowers in the spring and foliage that changes in the autumn from a pretty green to vivid red and gold.
For something a bit more exotic, try growing kiwi. This native of New Zealand is delicious and easy to grow. It's a fast-growing vine, so plant near a trellis or arbor so it can climb and the fruit can hang down for easy harvesting. Grapes are another great vine for covering structures, and you'll be rewarded with sweet, juice grapes for eating or for winemaking.
Herbs will round out your incredible edible garden. Just tuck in creeping Rosemary like the Huntington Carpet or an upright grower like Roman Beauty or Barbeque, and some lavender, such as Hazel Spanish Lavender or the dwarf Thumbelina Leigh English Lavender. Try growing a Sweet Bay in a container on your patio and use the leaves for soups and sauces.
For more great ideas on adding attractive edibles to your garden, visit www.monrovia.com
Courtesy of ARA Content
---