Warm Weather Decorating in Cool Hues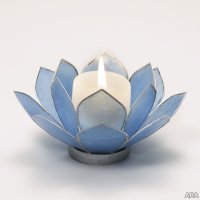 (ARA) – When the weather turns warm, we open our windows to let in the light and fresh air. But there are other ways to update living spaces to reflect the best of the summer season.
This summer's hottest hues are cool tones, particularly classic blue and white themes. Blue and white have been used as decorative accents throughout the ages to dress up everything from regal, formal spaces to country cottage homes.
Ancient Egyptians cherished blue and white lotus flowers as the key to creating spaces of spiritual enlightenment. Thought to enhance healing and create relaxing environments, blue and white flowers became popular patterns incorporated into fabrics, porcelain and rugs. In the 17th and 18th centuries, English and Chinese 'Blue Willow' designs were introduced as everyday stoneware and serveware. Used in both formal dining areas as well as by the household staff, blue and white was appropriate in virtually every type of interior space.
'The peaceful, simple beauty embodied by a hand-painted Asian vase is a perfect way to introduce a bit of ancient spirituality into your decorating scheme,' says Ruth Martin, director of merchandising for Ten Thousand Villages, a fair trade retailer. 'Items incorporating blue and white motifs are some of our most popular, due to their classic style and connection with peoples of ancient cultures and religions.'
Martin offers design tips to incorporate the cool and classic hues of white and blue into your home:
Asian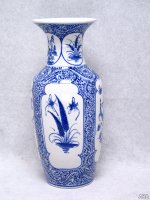 A simple white vase with intricate blue details is a hallmark of Asian decor. Fill a large vase with bright red or yellow summer flowers for a beautiful and cheerful centerpiece. Adding small blue and white accents to dark wood pieces of furniture, such as a traditional tansu (or step) chest, helps lighten them up and draw the eye.
Beach CottageBlue is the color of the ocean and white is the color of the sand, so the two together are a perfect complement to a beach cottage look. Swap out heavy rugs for breezy floor mats made of durable grass and add seating with blue and white ceramic garden stools. Frame personal photos of cherished summer moments in a simple white frame accented with a bit of blue.
TraditionalRemove darker throw pillows and blankets left over from colder months and replace them with crisp blue and white cotton and silk accents. Put heavy draperies in storage and hang light scarves in their place to open up, not only the windows, but the entire room. Set a lovely summer table with classic blue and white porcelain or ceramic dishes on top of white chargers and accented with crisp, white linen napkins.
ModernBlue and white can have a distinctly modern look when you branch out into shades of aqua and indigo with pops of bright white. Stripes and polka dots are simple and contemporary and look great on tablecloths, napkins and placemats. A white chair amid a sea of blue furnishings (and vice versa) adds a graphic punch to any space.
'Whatever your style, blue and white fits in seamlessly, especially for cool summer decorating' says Martin. 'While you're mellowing out your color palette for the hot season, make sure to support talented artisans and shop fair trade and sustainable. There's nothing hotter than your blue and white purchases being socially responsible.'
For a large selection of blue and white furnishings and accent pieces from tens of thousands of worldwide artisans, visit www.TenThousandVillages.com.
Courtesy of ARAcontent
---