Buy Local Pledge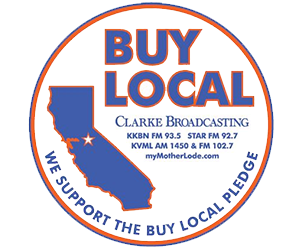 The Mother Lode is growing, and overall, our economy is healthy. But every day our prosperity is threatened by the loss of income because more of our residents are taking their purchases online. Small businesses that have been the backbone of our economy for generations are finding it tough-going.
At Clarke Broadcasting we want to help our local business owners by introducing the "Buy Local Pledge".
Will you take the Buy Local Pledge? Look for our Pledge Sticker on the door of local businesses. And remember, whenever possible,
THINK LOCAL SHOP LOCAL BUY LOCAL.


Here is a list of local businesses that support our local economy:
Abbey Carpet
Alley Tree and Landscape
Amador Tuolumne Community Action Agency (ATCAA)
Area 12 Agency On Aging
Around the Horn Brewing Company
Auto B Craft
Calaveras County Office of Education
Caldwell Insurance
Cal Solar Cleaning
Clarke Broadcasting
Diamond Concepts
Emberz
Fairway Mortgage
Gus's Steakhouse
Interfaith
JS West Propane
Junction Shopping Center
Keller Williams Realty Sierra Foothills
Maynord's Recovery Center
Mother Lode Car Wash
Mike's Pizza of Sonora
Nature's Whole Food Depot
Pacific Financial Group
Pine Alley Saw Shop
Servente's Saloon
Sierra Orthodontics Dental Practice
Sierra Repertory Theatre
Sonora Area Foundation
Sonora Mortgage Company
State Farm Insurance
Sun Waelty Auto Service
The Armory
TLC Assistant Living Services
Wrights Tires