Football Playoffs: High Scoring Wins And A Heartbreaking Loss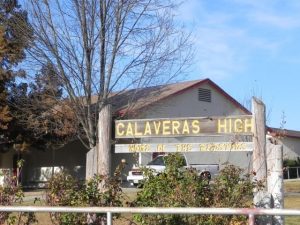 Calaveras High School

View Photos
The first round of the High School Football playoffs brought a win to the Sonora Wildcats but Calaveras High walked away with a loss.
Calaveras High lined up against Marysville Friday night but could not get the win with the final score of 38-7. Marysville will play Colfax Friday, Nov. 18.
The rest of the playoffs played out this way. Sonora's winning streak continued with a 56-21 win over Modesto Christian. Sonora will also play Friday on its home turf taking on the fourth ranked Capital Christian Cougars from the Sacramento area. The Cougars beat the Ripon Indians last night 56-7.
Bret Harte had a close game against Orestimba Thursday night, but fell short 29-27, while Oakdale defeated McNair, 49-0, and moves on to host Vista del Lago on Friday.