Mother Lode Fire Information - Evacuation Plans
Evacuation Plans
Evacuation Guidelines For Tuolumne County Residents
In Tuolumne County there are three types of evacuation warnings. Implementation of one or the other is dependent upon the actual or potential danger to the affected population as determined by the Incident Command Staff or the Board of Supervisors.
The Three Types of Evacuation are:
Evacuation Advisory
- Issued to the media to alert the public to potential evacuation orders. The advisory will contain general information on how to prepare for an evacuation.
Evacuation Warning
- Issued when an evacuation order is eminent. It includes the specific geographical area that may be evacuated and procedures to be followed.
Evacuation Order
- Issued when there is an immediate threat to life and/or property. The evacuation order contains specific geographic area to be evacuated and procedures to be followed.
Evacuation Information
During an emergency situation there are several places where you can find information regarding the status of the emergency, evacuations, and shelters. One of the places you can get current information about an emergency is through local radio stations.
Residents are encouraged to listen to one of the following radio stations during emergency situations.
KKBN 93.5 FM
KVML 1450 AM
KZSQ 92.7 FM
KOSO 93.1 FM (Modesto-Local EAS Station)
In the event of any type of disaster, the County will open up Citizen/Media Information Lines. These phone lines are staffed by trained personnel who will assist you with any non-emergency questions you may have during an emergency/disaster the phone number will be announced on the radio stations.

The number is (209) 533-5174 Should you need to report an emergency call, 9-1-1.

EVACUATION CHECKLIST
1. Remain Calm!
2. Inform family members, relatives and guests of the need for evacuation and procedures to follow.
3. Have a plan for reuniting family members if separated by the evacuation. If separated and there is no pre-planned meeting location, go to the assigned relocation site. Family members seeking evacuated persons should go first to the relocation site.
4. Lock doors and windows prior to leaving.
5. Take pets with you whenever possible, it may not be possible to reenter the evacuation area for several hours or days after you leave.
6. Consider taking the following items:
a. Medications needed by family members. (If left behind, obtain new prescription from doctor or pharmacy.)
b. Blanket for each family member.
c. Flashlight.
d. Credit cards or cash.
e. Change of underwear for each family member.
f. Battery operated radio.
g. In winter, heavy coats.
h. Personal papers or photographs that are important to the family.
7. When you leave your residence:

a. Do not tow any other vehicle. The Sheriff's Office shall determine whether trailering large animals in or out of the affected area will be authorized. Trailers used for any purpose other than evacuation of large animals is prohibited. Driving a motorhome out of the affected area is permitted, as long as it is not towed.

b. Follow the designated evacuation route out of the area.

c. Follow the directions of emergency personnel.

d. If you will not be able to contact family members to let them know where you are going, go to the designated relocation center until contact is made. After family members are united or notified, you may go to any other location during the evacuation. Or, you may remain at the site.
Care will be provided by the Department of Social Services or the American Red Cross for evacuees. Stay tuned to a local radio station for updated evacuation information.
Evacuations are a traumatic event in the life of a family. Preparing your family in advance for the potential of evacuation reduces the anxiety. Remember, emergency personnel are trained to assist citizens in the event of emergencies.
Your cooperation with emergency personnel is important to a safe and orderly evacuation. Please do not attempt to reenter an evacuated area until authorities have assured it is safe to reenter.
Below are some suggested check lists to help you prepare for an evacuation. Sit down with your family and go through these lists. Make sure everyone knows what they are supposed to do and where they are supposed to go. Remember that in the event of a real emergency, the time you spend in preparation is invaluable and can save you precious minutes.
Family Evacuation Checklist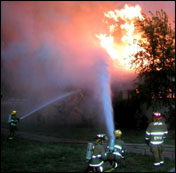 Create a family disaster plan to include any major emergency that may occur and make a list of things to do and take in the event of an evacuation.
Discuss the types of disasters that are most likely to happen and explain what each family member should do in that situation.
Have all emergency phone numbers posted in a good location in your home including the phone numbers of your neighbors.
If you see a fire approaching your home call 911.
Create an evacuation plan for your home and practice this plan every six months. Conduct emergency drills with your family.
Pick two places to meet: 1. Right outside the home. 2. Outside the neighborhood if you can't remain near your home.
Know all escape routes in your neighborhood and discuss them with your family.
Discuss what to do in an evacuation with your pets and livestock.
Be prepared at all times with a three-day supply of food (that does not need refrigeration or cooking), a three-day supply of water, portable radio, flashlight with extra batteries, lanterns, first aid supplies.
Keep your car parked facing the direction of your escape with windows closed, doors unlocked. Have emergency supplies in your car before the evacuation order is issued.
Leave a light on in your home and outside, close all windows, doors, chimney flues, close heavy drapes and blinds, remove all flimsy curtains and any furniture away from windows
If time permits: place a ladder next to your home for firefighters, turn off gas or propane, fill tubs and sinks with water and put towels in each for firefighters use, place garbage cans on deck and fill with water, put ladders and garden hose outside so firefighters can use them. DO NOT LEAVE WATER RUNNING.
Tell someone you are evacuating and post where you are going with a phone number (if possible) on the front of your house.
Take enough clothes for several days, eyeglasses, dentures, things you can't not easily replace i.e. photos, mementos, recipes, prescription drugs, insurance papers, checkbook, money, credit cards, deeds and titles.
If you are trapped by fire while evacuating in your car, park in an area clear of vegetation, close all vehicle windows and vents, cover yourself with a jacket and lie on the floor.
If you and your family are trapped by fire while evacuating on foot (stay together), select an area clear of vegetation along a road, or lie in the road ditch. Cover any exposed skin with a jacket or blanket. Avoid canyons that can concentrate and channel fire.
Register your evacuation location with the emergency shelter in the area. This is a suggested preparation list and should be tailored to your families needs. Consult your local fire department or the CA Department of Forestry for additional tips in surviving a wildland fire or disaster.

Provided with kind permission from the Amador Firesafe Council.
Disaster Preparedness for Dog and Cat Owners
In the event of an evacuation, pets may not be allowed inside human emergency shelters. Determine the best place to leave your pet in case of a disaster. Identify an off-site location as well as a place in your home. Dogs and cats should always wear properly fitting collars, personal identification, rabies, and license tags.
Disaster Preparedness for Horse Owners
Determine the best place for animal confinement in case of a disaster. Find alternate water sources in case power is lost and pumps are not working or have a hand pump installed. You should have a minimum of three days feed and water on hand.
Family Evacuation Checklist
Create a family disaster plan to include any major emergency that may occur and make a list of things to do and take in the event of an evacuation. Here you will find seventeen steps from simply creating a family disaster plan to registering your evacuation location with the emergency shelter in the area.
FCC/FEMA Tips for Communicating During an Emergency
Here you will find eleven tips that the FCC and FEMA recommend for Communicating During an Emergency.
This content requires the latest Adobe Flash Player and a browser with JavaScript enabled.
Click here
for a free download of the latest Adobe Flash Player.