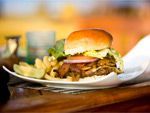 676 McCauley Ranch Rd.
Angels Camp, CA 95222
Phone: (209) 736-8181
Website


CAMPS Restaurant at Greenhorn Creek in Angels Camp is beautiful with high-beamed ceilings, majestic stone fireplaces, and tables constructed of old barn wood. The dining room is rustic, yet elegant without being pretentious with fabulous views of the golf course under the shadow of Bear Mountain.
The menu is designed using fresh, local ingredients when possible. Prepared by talented chefs, the food is comfortable, yet artistic with innovative flair along with regional classics. Hand-cut steaks and fresh fish prevail, salads are hand-tossed, meats and steaks are cut in-house with six sizzling steaks on the menu showcasing the versatility of beef; and, like any good ranching community, slow roasted Prime Rib is served on Friday and Saturday nights. We proudly serve local, ranch-raised, corn-fed Calaveras County beef burgers. They are the best! Tasty, quick salads and sandwiches are also served for lunch and throughout the day. Breakfast is served on Sundays with a wide variety of selections including delicious Eggs Benedict using farm fresh eggs. The menu prices fit into everyone's budget and occasion ranging from $8.95 to $29.95.
The wine list boasts a collection from the region as well as fine selections from Napa, Sonoma and the Central Coast; and our bartenders pride themselves in concocting the perfect cocktail. They are good! The cocktails and the bartenders!
Musicians play live music in the bar on Friday and Saturday nights. The background music is soft and engaging during dinner hours and proceeds into lively and vivacious arrangements for dancing as the night ensues.
If you are going to enjoy some of the best eating and entertaining, chances are you are going to find it
here!
The Bistro Bar Menu: Wed – Sun, 5:00 PM – 9:00 PM
CAMPS Bar: Wed – Sun, 11:00 AM til close
Mon & Tue Lounge open 11:00 AM – 6:00 PM
Live Music: Friday & and Saturday
Hours
Wed - Sun, 11:30 AM - 9:00 PM Sunday Brunch: 10:00 AM to 2:00 PM
Cuisine
American, California, Salads, Sandwiches, Seafood, Steakhouse-Fine
Ambiance
Casual
Options
Banquets (20 or more), Banquets (under 20), Bar, Brunch, Early Bird, Fireplace, Great Beers, Great Wines, Light Menu, Outdoor Dining, Parking, Weddings, Wheelchair Access, Wine Tastings
Entertainment
Dancing, Live Music, TV
Notes
Alcohol:
full bar
Pricing:
None
Accepts
American Express, Debit Card, Mastercard, Visa