Columbia College
"The Mother Lode's Community College"
Located on 280 acres of forestland in California's historic Mother Lode, the college campus surrounds a peaceful 4 1/2 acre lake and has been described as one of the state's most beautiful community colleges.
You might see some deer, squirrels, foxes, wild turkeys, or rabbits on your way to class. Efforts are continually made to maintain the grounds in its natural sate.
Campus buildings are planned around San Diego Reservoir from which wooded foothills join the rugged majesty of the Sierra Nevada. In keeping with the historic atmosphere of the Mother Lode Region, the design concept of the campus is in the architectural style of early California during the Gold Rush Days.
Brief History
The Yosemite Community College District Board of Trustees authorized the formation of Columbia Junior College and scheduled its opening for September, 1968. The word 'Junior' was dropped from the College name in 1978. Currently several projects are underway to expand the facilities which MyMotherLode.com reports on in the Local News.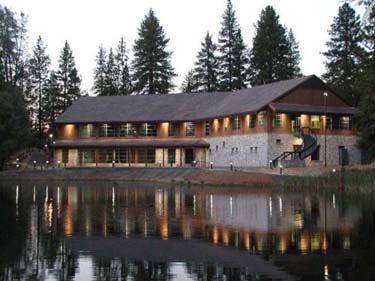 Course Highlights
Wonderful art programs, music instruction and automotive instruction. The Hospitality Management program is known in the area for graduating wonderful chefs. The working firehouse and training facility for Fire Technology students, allows them respond to fire calls throughout the county.
Campus Building Highlights and Features
Dogwood Building: also known as the Forum Building, doubles as a classroom and performing arts theater with 182 seats.
Tamarack Hall:This new two-story, 20,021 square foot facility is home to the college Library, Technology/Media Services and several faculty offices.
Manzanita Building: this 30,000 sq. ft. building was the first completed structure on campus. It is the college's central administrative hub and includes The Cellar Restaurant, and Rotunda area, which is used for exhibits, displays and public events.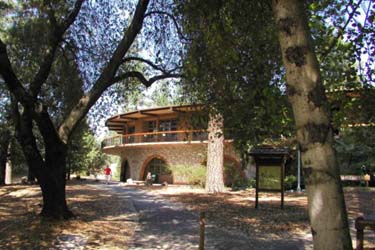 Oak Pavilion: The Claim Jumpers' (basketball team) 50,000 sq. ft. sports arena is an aluminum geodesic dome, containing a 1,400 seat gym, classrooms and faculty offices.
Charles Segerstrom, Jr. Memorial Amphitheater: Performing arts and public ceremonies are conducted in this impressive outdoor facility located in Judge Ross A. Carkeet Park.
Segerstrom Arboretum Nature Trail: A delightful 1/4 mile trek through the woods to the campus arboretum, which contains rocky remnants of the former day of hydraulic mining in the area. There is also a fitness trail challenge course that winds for about 1.5 miles along its own scenic nature trail with 18 exercise stations.
Mi-wok Cultural Center: Includes a reconstructed roundhouse, sweat house, bark dwelling, acorn granary and grinding rock, which reflect the local Sierra Mi-wok heritage.
Observatory: Open only for college classes, several telescopes are available for students to observe planets, as well as deep sky objects and galaxies from the foothills.
Tennis Courts: Six public tennis courts are equipped with lighting for day or night play.
For more about the College visit their website.
If you want to stay close to where the action is or your activity gets rained out and you want a place to stay here is the full list of places to stay.
This is only a small taste of where this activity can be enjoyed. Tell us about your favorite place! Share your experiences send an email to Recreation Information If you would like to advertise with us, please e-mail our sales department sales department or give us a call at (209) 533-1450. To see the gallery of our current advertisers click here.
This content requires the latest Adobe Flash Player and a browser with JavaScript enabled.
Click here
for a free download of the latest Adobe Flash Player.