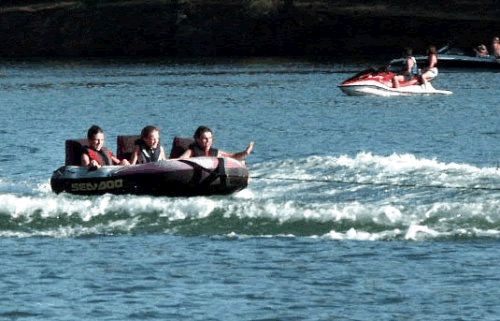 Situated on the Stanislaus River below New Melones Dam, Lake Tulloch is a recreational reservoir. The surrounding foothills block the wind providing great "glassy" water conditions for water skiers and wake boarders to enjoy. In the center of the lake there is more wind and sometimes enough for windsurfing.

Located near the historic town of Copperopolis Lake Tulloch has four main channels in an "X" shape. With 55 miles of beautiful shoreline it is one of the few lakes in California that allows private waterfront homes and docks.

The reservoir was created in 1958, is at 504 feet in elevation and covers about 1,260 surface acres. The lake is operated by the Oakdale and South San Joaquin Irrigation districts as part of the Tri-Dam Project.

Access to the reservoir is available through privately owned facilities accessible to the public on a fee basis. Launching fees at the north end at Tulloch Lake Resort are $10 to $25 depending on the day, and $6 at the South R.V. Campground and Marina.

Lake Tulloch has 130 sites. Lakefront sites with RV hook-ups also allow boats to tie up. Cabin rentals are available with two rooms, electric and evaporative cooler with sleeping accommodations for 6 – 8 persons. Cabins also have private docks and lakefront swimming. For more information or reservations, you can call (209) 881-0107 or visit the web site.

Lake Tulloch South Shore Marina & Campground (209) 881-0107

14448 Tulloch Dam Road Jamestown, CA 95327-9238

Loaded with big fish, here you will find Largemouth Bass over ten pounds, and some Smallmouth Bass over four pounds. Tulloch is a tail water fishery that benefits from cold water releases from the much larger New Melones Lake. Bass can be found throughout the lake Rainbow trout maybe near the dam, or on the Stanislaus River inlet. During the late Winter and early Spring start Crappie fishing. Lake Tulloch Southshore has launch ramps, courtesy docks, gas docks, boat rentals, a restaurant, and a general store.

For more information call (209) 881-3410 or (800) 894-2267

Lake Tulloch Fish: Rainbow Trout, Brown Trout, Largemouth Bass, Smallmouth Bass, Catfish, Crappie, Bluegill