Heroes Day in the Foothills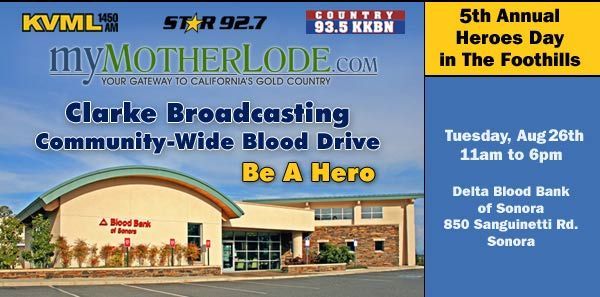 Clarke Broadcasting is proud to present a community wide blood drive to meet our urgent local need.
When: Tuesday, August 26th 11am to 6pm
Location: Blood Bank of Sonora 850 Sanguinetti Rd.
How:
Call 1(888)94 BLOOD x200 or (888)942-5663 x200 to make an appointment or drop by.
Why donate blood?
Statistics show that 25% or more of us will require blood at least once in our lifetime.
Only 5% of eligible donors across the nation donate blood, but the number of transfusions nationwide increases by 9% every year.
Every 2 seconds, someone in the USA needs blood.
There is no substitute for human blood.
Donations have a shelf life of 42 days. Platelets have a shelf life of 5 days.
1 out of every 7 hospitalized patients need blood.
A single shock trauma victim can require 100 units of blood in just a few hours.
A blood donation is one pint. The average adult has between 10 and 12 pints of blood.
Blood donation is completely safe.
Donors can make a donation every 56 days. If you donated 4 times this year, you could save up to 12 lives. The entire process takes 5 easy steps and generally takes approximately an hour. The actual blood draw only lasts between 6 and 10 minutes. The rest of your time is spent in reception, in the donor history, and in the post-donation refreshment area.
What a first time donor can expect
Eat a good breakfast and drink plenty of fluids before donating
Bring a valid photo ID with date of birth (16 year olds must have signed consent form by legal guardian)
Donor process:
Set aside 45 minutes to an hour
Donation process takes 5 to 10 minutes
Donor will be required to sit in our canteen area for 15 minutes where we provide fluids and snacks
All donors receive a thank you gift for their generous life saving donation
Information on donor process:
Or call 1(888)94 BLOOD x200 or (888)942-5663 x200
Main Reasons Someone Can
Not

Donate Blood
Tattoo that is less than a year old
On antibiotics the day of the blood drive
If you have had a cold or flu you must be symptom free for three days before donating
Certain medications
Low Weight
Blood donors may be 16 years old, but must have parental consent and weigh a minimum of 115 pounds. 17 years old and up must weigh a minimum of 110 pounds
Visit this link for eligibility information: http://www.deltabloodbank.org/donate/d/eligibility.html