Sonora High School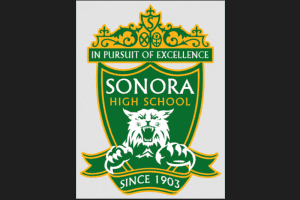 In an effort to prevent the spread of COVID-19, the Tuolumne County Superintendent of Schools, in collaboration with the health department, closed all school facilities.
The Sonora High School distance learning daily schedule has been sent out students are expected to logon at 8:05 AM on August 18th and each school day except Wednesday (an independent workday) for roll taking, tech issues, info gathering, and well-being check. All 6 periods will be 10-30 min instruction and
10-30 min independent work with teacher support available. Lunch is 11:30 AM to 12:10 PM and school is over at 3:00 PM
From Lance Morrow incoming Sonora High Principal:
As we have said, the expectation is that students will be actively engaged in learning every day.
All students will be issued Chromebooks for distance learning. We will be working with families on internet connectivity solutions beginning early next week.  Please fill out this quick survey  https://bit.ly/SHSConnectionSurvey to help us understand the current connectivity of your student.  This will give us important information needed to develop plans to get all students connected to their learning.
We have developed a system for the distribution of the materials that students will need to start distance learning, such as, textbooks, chromebooks, and other materials.  We will be having two different drive thru book/material pick up nights:
Juniors and Seniors: Friday, August 14th, 5-7PM

Freshman and Sophomores: Monday August 17th, 5-7PM
The process will be as follows:
Please come down Shaws Flat Rd from the north

Give your students name to the school personnel by the crosswalk

Pull forward and someone will bring you your materials.
Included in the freshman, and all students new to Sonora High materials bag, will be their login information for their school accounts.
The Aeries Portal login link for Sonora High School is https://abi.sonorahs.k12.ca.us/Portal/LoginParent.aspx
Logging on Access to the Parent Portal sign-in screen is through the Parents Button at the top of the School's Webpage: ​​http://www.sonorahs.k12.ca.us/shs
Accessing Student Information

Once logged in you will be given access to a number of tabbed choices including Student Info,
Attendance and Grades. Buttons for Options (to Change Password) and Logout are located toward the top right of the screen.
Please note​: All information is current. You will be able to view or print any of the information.
Important​: Transcripts printed from the Parent Portal are unofficial and will not be accepted by other schools or colleges. For additional information and interpretation of transcripts please contact your student's counselor.

Logging Out The Parent Portal will automatically log you out after 20 minutes of inactivity. It is imperative that you log out and close the internet browser when you have finished using the Parent Portal on a public computer (any non-home computer). Failure to close the internet browser may make your student's personal record available to individuals who use the computer after you. They may be able to view and/or print out information contained in your student's personal record. If you have difficulty accessing your account, please contact Sonora High School at the following number (209) 532-5511.
Thank you. We hope that this additional access will be helpful to you and your student.