Update: Red Flag Warning & Sierra Nevada Wind Advisory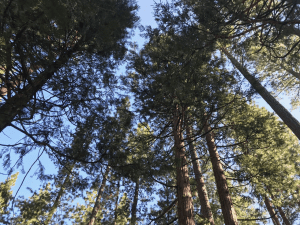 Forest area in Stanislaus National Forest

View Photo
The National Weather Service has issued a Red Flag Warning for the Mother Lode and the Stanislaus National Forest through 4 PM this afternoon.
Additionally, a Wind Advisory remains in effect for the Sierra Nevada until noon today.
Winds of ten to twenty-five mph will continue at times with gusts ranging from thirty to sixty mph.
The winds will be decreasing by late morning and should be fairly light by late this afternoon. Even with the lighter winds, humidity values will remain quite low for this time of year.
Daytime relative humidity values will be very low (around the single digits to fifteen percent), with extremely poor morning recoveries (from fifteen to thirty percent).
This combination of dry conditions and gusty winds has led to critical fire weather conditions for much of the area. Any fires that develop will likely spread rapidly. Outdoor burning in the forest is not recommended.
Gusty winds could blow around unsecured objects. Tree limbs could be blown down and a few power outages may result. This could also create difficult driving conditions. Use extra caution when driving. Secure outdoor objects.
A Wind Advisory means that wind speeds over 25 mph are expected or wind gusts over 40 mph. Winds this strong can down trees and branches, cause power outages, and make driving difficult, especially for small cars and high profile vehicles. Use extra caution.
A Red Flag Warning means that critical fire weather conditions are either occurring now, or will shortly. A combination of strong winds, low relative humidity, and warm temperatures can contribute to extreme fire behavior.