Governor's Christmas Message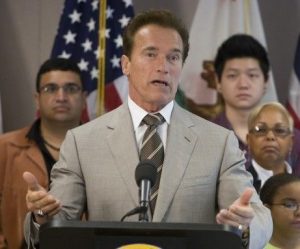 Arnold Schwarzenegger

View Photos
"Hi, this is Governor Arnold Schwarzenegger.
Maria and I want to wish all of you a Merry Christmas and Happy Holidays and thank each and every one of you for all the wonderful cards and letters you've sent us.
Christmas has always been my favorite time of the year. As a child, I remember the excitement when I saw the tree and our presents for the first time on Christmas Eve, which is exactly how it is done in Austria. I couldn't wait to rip through the paper to see what I had gotten. If it was ice skates, or a sweater, or soccer ball or maybe even a sled. And I remember at the same time how incredibly happy my parents were just watching us and seeing the excitement on our faces. They knew that the joy of Christmas was not just in getting, but also in giving.
And now, years later, I have my own family and the roles have switched. I have the most wonderful time sitting there with Maria watching our children opening their presents at Christmas. I can sit there for hours as they try on their new clothes or play with their toys. But of course, it's not always the gifts that you buy that mean the most.
Like for instance one year, my son Patrick painted me a picture of a Christmas tree. He put it in a frame, wrapped it up, and gave it to me as a Christmas gift. I received many gifts, and some very expensive, but this was the most precious gift of all of them. And it just goes to show you that the best gift comes from the heart.
Maybe you want to give a little gift from the heart, like writing a letter, or doing a drawing or a little painting. It's just an idea, think about it. Merry Christmas and Happy Holidays!"