Gov Schwarzenegger Desires Federal Stimulus Money For Education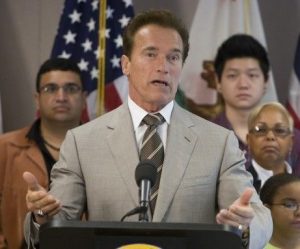 Arnold Schwarzenegger

View Photos
Gov. Schwarzenegger was Tuesday's KVML "Newsmaker of the Day". Here are his words:
"Hello, this is Governor Arnold Schwarzenegger with another California Report.
This week, I want to talk to you about a tremendous opportunity for California students.
President Obama, as part of his stimulus package, has announced a $4 billion investment in our nation's public schools.
This program, called Race to the Top, is the single largest investment in education reform in U.S. history.
The only problem is, various California laws disqualify us from even applying for this money.
This leaves hundreds of millions of dollars sitting on the table, at a time when our schools need that money the most. That is unacceptable. So on Thursday, I called a Special Session of the legislature to change all of that.
And I proposed legislation that includes all the things the Obama Administration is calling for.
This will allow us to apply and compete for this federal funding.
But of course, this is about much more than just money.
This is also about fundamentally reforming and fixing California's broken education system.
Because simply pumping more money into the same system won't turn failing schools around, improve test scores or lower the dropout rate.
Now, let me give you a few highlights of this reform package.
Number 1: Current California law caps the number of charter schools allowed in the state.
Not only does this stifle innovation but it's prohibited under the President's plan. So I am asking the legislature to lift that cap.
Number 2: The key to excellence in any area, including education, is competition and consumer choice. Yet current law tempers competition and limits choice.
Our reforms change that.
We will empower students, especially those suffering in our lowest-performing schools, to transfer to a school and a district of their choosing.
Number 3: We must increase accountability and transparency, by collecting and using data more effectively.
How can we improve if we don't know what's working and what's not?
For example, the Obama Administration has criticized California for having no way to distinguish good teachers from bad teachers.
This is a terrible disservice to our kids. So I am asking the legislature to change the law that prohibits linking student achievement data with teacher evaluations.
Let's push our teachers and our schools and bring out their very best.
When I came to California in 1968, our public school system was the envy of the nation. And it can be again.
So let's use this opportunity to reform the system and capture hundreds of millions of dollars for our schools.
Thank you for watching and thank you for listening."
The "Newsmaker of the Day' is heard each weekday morning on AM 1450 KVML at 6:47, 7:47 and 8:47am.
Written by mark@mlode.com