Newsom Taps One Regulator and Fires Another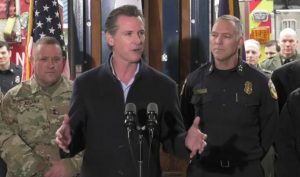 Governor Gavin Newsom in Colfax announcing wildfire funding

View Photo
Sacramento, CA – As Governor Gavin Newsom signed into law his $21 billion fire fund today, he also announced the appointment of a new utilities regulator, after just yesterday ousting another supervisor.
Newsom says he fired the head of the state's oil and gas division because he did not "exercise consistency" with his opposition to hydraulic fracturing. He added that Supervisor Ken Harris was let go based on two issues: an increase in state-issued fracking permits and a report from anti-fracking groups showing senior officials in the division held stock in companies they were responsible for regulating. While he does not have the authority to issue a moratorium on fracking, Newsom clarified that he wants to move the state away from reliance on oil and gas.
A day after the state legislature passed the fire fund bill; Newsom signed the measure that creates a fund of up to $21 billion to pay victims of the state's devastating wildfires, as earlier detailed here, and chose a new utilities regulator.
His choice for the new president of the California Public Utilities Commission, which oversees power companies as well as other services, is 64-year-old Marybel Batjer of Sacramento. She has served as Secretary of the Government Operations Agency since 2013 and was also the Cabinet Secretary for Governor Arnold Schwarzenegger from 2003 to 2005.  The commission is in the spotlight as the state's largest electric utility, Pacific Gas & Electric, proceeds with its bankruptcy process after facing billions in claims for damages from wildfires sparked by its equipment.