Traveler Delays In Two Tuolumne County Areas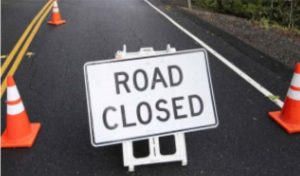 Road Closed Signage

View Photo
Tuolumne County, CA – Caltrans and Tuolumne Utilities District (TUD) crews will be doing roadwork that will slow traffic in Tuolumne County for commuters several days next week.
Continuing its ramp work along the Highway 108 Sonora Bypass, Caltrans will close the eastbound Mono Way off-ramp for pavement work. The hours of operation will run from 7 a.m. to 3 p.m. on Sunday, June 23 and Monday, June 24.
Additionally, on Thursday, June 27 and Friday, June 28 there will be a partial shutdown of the Hess Avenue on and off-ramps. Crews will be doing striping work from 8 a.m. to 6 p.m. Motorists should expect delays of five to ten minutes at these ramps.
TUD will continue its contracted work with crews from Njirich & Sons, Inc. of Sonora on two paving projects along various streets within Tuolumne County through October, as earlier reported here. TUD relays that for the remainder of June crews will working in the Columbia and Gibbs Ranch areas from 7 a.m. to 4 p.m. each day, but specific roads have not been detailed as crews will be continuously moving. Drivers should expect wait times of up to ten minutes.