Schwarzenegger Wants Balanced Budget ASAP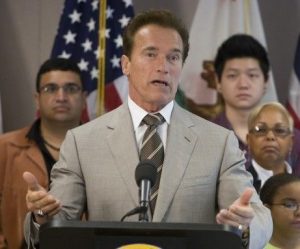 Arnold Schwarzenegger

View Photos
Governor Schwarzenegger was Tuesday's KVML "Newsmaker of the Day". Here are his words:
"Hello, this is Governor Arnold Schwarzenegger with another California Report.
Last week marked the beginning of the new fiscal year. And for the 19th time in the last 25 years, California will begin the fiscal year without a budget.
For taxpayers, a late budget is a disaster.
Since January, the legislature's inaction has already added nearly $3 billion to the deficit, and every additional day of inaction costs taxpayers another $52 million.
I urge the legislators to get to work and to send me a budget as soon as possible.
I want to also remind them that the worst thing we could do in this budget is raise taxes again or borrow money again.
Not only would that kill private sector jobs and slow our economic recovery, but there are so many inefficiencies within government that should be fixed before we even think about raising taxes or borrowing.
That is why we have to look at ways to streamline the bureaucracy and make government smaller.
For example, in California we elect a Superintendent of Public Instruction. But why? We already have a Secretary of Education and a Board of Education. Why do we need a Superintendent of Education?
We also have two completely separate tax collection agencies. The Board of Equalization handles the sales tax. And the Franchise Tax Board collects income and corporate taxes.
That is absolutely unnecessary and a waste of money, and there are so many more examples out there.
Now, I have been pushing to streamline government since taking office and we have had some success. Last year, we terminated a dozen boards and commissions like the Waste Management Board and the Board of Geologists.
We are also in the process of restructuring and consolidating the state's energy functions.
But as you can see, there is a lot more work to do.
Now, will these actions solve our budget deficit? Of course not. But it will help.
In Sacramento, we have a responsibility to spend the people's money wisely and efficiently.
I always try to say to the legislators: "spend the money as if it was your own." That would completely change behavior.
Believe me, I never forget that every dollar sent to Sacramento is a dollar taken away from families and small businesses. That is why I will continue to fight and fight to make government more efficient and more effective.
Thank you for watching, and thank you for listening."
The "Newsmaker of the Day" is heard each weekday morning on AM 1450 KVML at 6:47, 7:47 and 8:47am.
Written by mark@mlode.com