Governor Discusses Office of Economic Development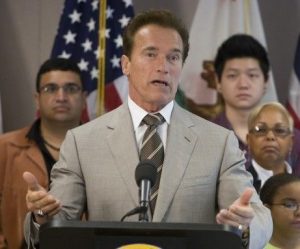 Arnold Schwarzenegger

View Photos
Governor Schwarzenegger was Tuesday's KVML "Newsmaker of the Day". Here are his words:
"Hello, this is Governor Arnold Schwarzenegger with another California Report.
I know that across the entire state, Californians are worried about jobs and the economy.
And that is why I made job creation, and bringing back our economy, my top priority this year.
I even talked about it in my State of the State address.
So I am proud to say that this week, we made a change that will make it easier to do business and to create those jobs right here in California.
We launched what we are calling "the Governor's Office of Economic Development."
Now here is how it works:
We are coordinating more than 100 programs, across 28 state departments, and creating one office to communicate with the companies that want to do business right here in California.
This is going to be like a one-stop shop, like a concierge service, to serve and to support businesses.
If you want to start a business, if you want to expand or relocate your business, we want you to do it here in California.
We are going to make it as simple and painless as possible. Because we are cutting through all the red tape and streamlining state bureaucracy.
And believe me, there is a lot of state bureaucracy. Sometimes it takes a long time to get all the permits and everything lined up to start a business here in this state.
So we are taking action. We are getting the job done, without spending any extra money.
In January, I promised the people that I would keep working until every Californian who wants a job, has a job.
Since then, we have made important changes and passed important legislation to stimulate, for instance, our housing industry and our green industries.
And we are moving forward on a package that will create thousands and thousands of new jobs right here in our state.
And now, we have the new Office of Economic Development.
And let me tell you something, it has been proven that when you jumpstart the economy, and you create the jobs, people go back to work and that means extra revenues to the state of California and that is what we want. Because remember, we still have a $20 billion deficit.
So we've got to get the economy back again.
We know that the global recession has taken such an unbelievable toll on our state. Our unemployment rate is way too high.
But we also know that we have here the eighth largest economy in the world with a $1.85 trillion economy.
We are a dynamic place to do business. Everyone from around the world wants to come here and do business here. Now we are making it easier for them to do business.
If we all work together, California will come back stronger than ever. I know that.
Thank you for watching and thank you for listening."
The KVML "Newsmaker of the Day" is heard each weekday morning on AM 1450 KVML at 6:47, 7:47 and 8:47am.
Written by mark@mlode.com