Discussion About Calaveras County Jail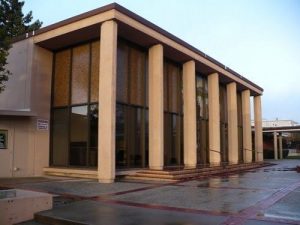 Calaveras County Government Center

View Photos
San Andreas, CA – The Calaveras County Supervisors have scheduled a study session to discuss the proposed jail project.
The sit down with Sheriff Dennis Downum will occur during Tuesday's Supervisors meeting in San Andreas.
In February the Board temporarily suspended funding for design work on the project. Supervisors Tom Tryon, Gary Tofanelli and Steve Wilensky were in favor of the suspension, while Russ Thomas and Merita Callaway were against.
In 2007, Calaveras voters approved a local $31 million bond measure, promising a little more than half of the total $58 million needed to build the facility. The state is planning to cover much of the remaining half, but there have been questions raised about whether the state will be able to cover its share given the financial crisis.
Tuesday's meeting will begin at 9am at the Government Center in San Andreas.
Written by bjhansen@mlode.com.