Schwarzenegger Praises Obama's Stimulus Bill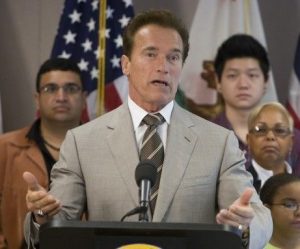 Arnold Schwarzenegger

View Photos
Governor Schwarzenegger was Tuesday's KVML "Newsmaker of the Day". Here are his words:
"Hello, this is Governor Arnold Schwarzenegger with another California Report.
This week, we celebrated the one-year anniversary of the Recovery Act, also known as the federal stimulus package, which has triggered great action up and down our Golden State.
By the end of this month, we will have committed $2.5 billion in federal funding to highway transportation projects in our state. This is more than in any other state in the nation.
And it goes hand in hand with my Strategic Growth Plan, which has been rebuilding California; rebuilding our levees, schools, parks, affordable housing and much more.
When President Obama announced the Recovery Act, I promised the people of California that I would fight for every dollar.
I vowed that we would put this funding to work as quickly as possible, so that we create the jobs as quickly as possible.
Now one year later, I am proud to say we are doing just that.
California has led the way by creating a Recovery Task Force, to get the most money, and creating the first-in-the nation Inspector General position, to make sure the stimulus money is spent the right way: efficiently and effectively.
Now, you may have heard critics say that the Recovery Act spending was a waste. It didn't achieve anything.
Just tell this to the 150,000 people in California who would be unemployed without it.
Tell this to the teachers who would be unemployed, or to the police officers.
Tell that to the construction workers who were hired, to the crane operators building our bridges and the bulldozer operators paving our highways. Tell that to them.
This is not government. This should not be political.
We are actually celebrating the one-year anniversary of helping people. Helping people through these very tough times.
Here are some examples:
• $12.8 billion is being put to work in programs to both train and fund jobs.

• $13.8 billion is in programs like MediCal and unemployment.

• We have also put 40,000 young people into summer jobs.

• We have helped 1,500 at-risk young adults through the Green Job Corps.

• We have delivered more than 650,000 warm meals to seniors.

• And more than 11,000 low-income Californians have been hired.
Jobs and the economy are my top priority.
We are living through a global economic crisis, but Californians are not sitting back and waiting for the recovery to happen.
We are out there taking action, rebuilding our state and putting California back to work.
So thank you for watching and thank you for listening."
The "Newsmaker of the Day" is heard each weekday morning on AM 1450 KVML at 6:47, 7:47 and 8:47am.
Written by mark@mlode.com